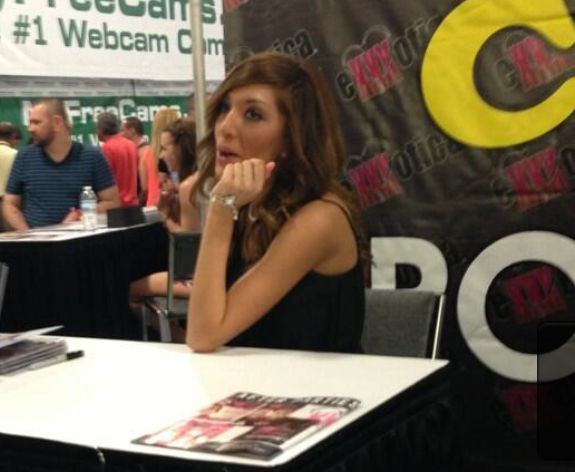 Although The Ashley has tried to make a conscious effort not to write about Teen Mom--turned p0rn star Farrah Abraham as much, this was just too good to pass up!
As you may have heard, our favorite "Backdoor Teen Mom" spent the weekend of her 22nd birthday in Florida at the EXXXOTICA Convention (which is basically a place p0rn fans and perverts can meet their favorite sexy movie stars!)
Roundup pal Jesus (who runs his own site , Drunken Stepfather, and is HIGH-larious!) attended the convention and reported on Farrah's activities throughout the two days. He was kind enough to give The Ashley permission to print his musings about his experience!
According to Jesus, Farrah didn't get much love from the fans, despite being one of the biggest "stars" at the convention and demanding VIP treatment!
"She was the only one with a roped off line, which happened to also be the only one who didn't have a line," Jesus reports.
On Friday, the first day of the convention, things were a little empty in Farrah's neck of the sex convention woods, apparently.
"Things calmed down, way down, we heard crickets, as no one lined up to see her, I guess they either didn't care or were intimidated by her amazing performance in her sex tape," he says. "But it gave her time to check her texts…and tweets…to remind herself that people do care…as people do in all lonely and awkward situations…"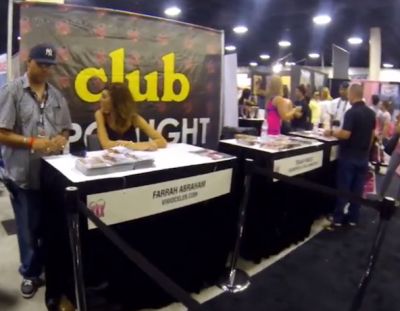 Farrah was charging $20 to sign something at the convention and, according to Jesus, refused to take pictures with anyone who didn't pay.
"[She said no] to 2 young girls who were actually excited to see her and not pervert dude…" he reports.
Apparently, Farrah must have been unhappy with the light crowd on Friday because "someone" seemed to have tipped off the paparazzi before Saturday's convention, and they arrived in full force, according to Jesus.
"She was glowing with excitement…finally…the flashes she craved!! She was able to make a little money, selling autographs and DVDs directly to the perverts," he said.
"She wasn't very friendly, got mad when people took pics of her, and [acted] like an overall spoiled brat" Jesus added.
Wait…Farrah acting bratty?! I'm shocked! Hey, at least she didn't drag Sophia and her father, "Whatever, Michael" to the sex convention, like she did when she went to Vivid's offices to negotiate her p0rn movie!
Special thanks to Jesus for providing some stellar reporting!
(Photos by Jesus of Drunken Stepfather. Used with permission.)