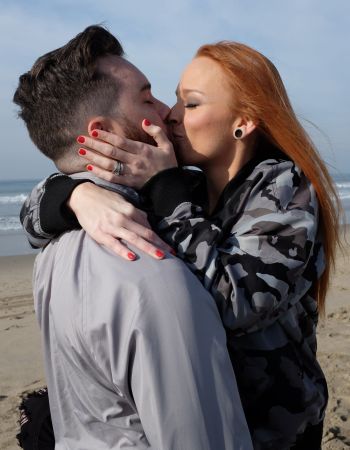 It's finally happened– Maci Bookout is officially engaged!
The Teen Mom OG star, whose storyline this season has basically just been about her pushing her longtime boyfriend Taylor McKinney to propose, announced today that Taylor  finally popped the question.
Maci took to her Instagram, as well as her Twitter account, to announce the big news.
"Well y'all, my best friend asked me to marry him! I'm one lucky lady, I love you T!" Maci captioned a photo of her and Taylor kissing.
The proposal took place within the past few days, at Venice Beach in California. (Maci and Taylor had been in California to film the 'Teen Mom OG' Season 5B reunion show this past weekend.)
"We were on Venice Beach!" Maci told MTV News. "He (and MTV) had told me that I was going to do an interview for MTV.com, which turned out to be a complete trick just to get me to the beach for him to ask me. When he asked me to marry him, I was in complete shock. I couldn't believe that it was actually happening, and to be honest, I couldn't believe that he had pulled it off without me figuring it out…because I usually know everything!"
Maci told the site that she is thrilled to have Taylor as her fiance (finally).
"I honestly don't think it has actually 'hit' me yet," Maci said. "But I am very excited and feel super blessed that I get to marry Taylor. He's an amazing man and dad."
Maci's son, Bentley, is apparently just as thrilled about the proposal.
"He was shocked and emotional," Maci said of Bentley's reaction to hearing the news. "He actually teared up a little bit — I think his exact words were that he was just so happy that T-Money was finally going to be his step dad.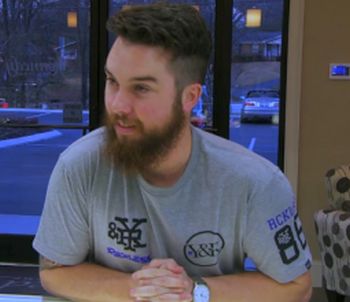 "Taylor has asked Bentley to be his 'mini' best man, and Bentley agreed," Maci added. "Not sure he is aware of the responsibilities of a best man, but I'm sure he will do just fine! Jayde will definitely have a part in our wedding too — it's just a matter of figuring it out considering she is still so young. I am excited to have them share this day with us."
Maci did not state when she and Taylor planned to tie the knot.
Maci is just the latest 'Teen Mom' franchise member to get engaged. Last year, Maci's co-star, Amber Portwood, accepted a proposal from Matt Baier, and Teen Mom 2 star Chelsea Houska recently became engaged to her boyfriend, Cole DeBoer. Both have stated that they will get married sometime in 2016.
(Photos: Instagram, MTV)