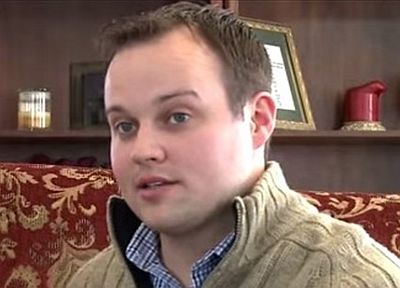 It's official: Josh Duggar has been sprung from rehab!
The Duggar Family posted a statement to their official website today to let 19 Kids and Counting fans know that Josh is back in Arkansas after spending nearly seven months shuttered up in an Illinois faith-based rehab facility.
Josh had been staying there since August, in an attempt to recover from a self-described p0rn addiction. He checked himself in after it was discovered that he had been using dating websites such as Ashley Madison.com to be "unfaithful" to his wife, Anna Duggar.
According to the Duggars, Josh has finished his stay in rehab but will continue to get treatment.
"Josh has completed his residential rehabilitation program," the Duggars' statement reads. "We are so thankful for everyone who worked with Josh in this program. It was a crucial first step in recovery and healing for Josh. Josh has now returned to Arkansas, where he will continue professional counseling and focus on rebuilding relationships with his family."
Josh's wife Anna has pledged to stand by her disgraced husband, and even paid him a few visits while he was in rehab. She had been living with Josh's parents during Josh's stay in rehab, but the Duggars did not indicate whether Anna (and the couple's four children) will remain in the Duggar household, or if she and the kids will move back in with Josh.
They did, however, thank their fans for their prayers.
"We look to God for help and guidance and place all of our trust in Him," the statement read. "We are forever grateful for the love and prayers offered by so many and hope you will continue to pray in the days ahead."
Jessa Duggar, who has confirmed that she was one of the five girls that Josh admitted to molesting during his teen years, recently spoke with People magazine regarding her feelings toward her brother.
"I definitely have forgiven Josh. It is a process, though, that you have to work through in your heart," she told the magazine. "And trust is not quickly rebuilt. It is something that takes a while. We love him very much, though, and we are very hopeful for the future."
Jessa, Anna and the rest of the older Duggar siblings will soon be coming back to our television screens via a full season of the '19 Kids and Counting' spin-off, Jill & Jessa: Counting On. (Click here to watch the latest 'Jill & Jessa' trailer!)
TLC has confirmed, however, that Josh will not be making any appearances on the new series.
"Josh is not appearing in 'Jill & Jessa: Counting On,'" the network said in a statement to People. "We wish the family continued healing."
None of the Duggars kids (who are allowed to have social media) have mentioned Josh's release rehab…yet.
(Photo: TLC)