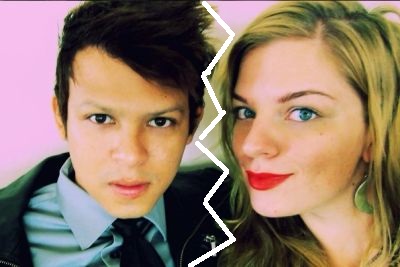 Sorry, 90 Day Fiance fans, but it looks like we won't be seeing any future happy updates on Season 2 couple Chelsea Macek and Yamir Castillo.
Starcasm broke the news that Chelsea and Yamir are officially divorced after just over two years of marriage.
The couple, who met while Illinois-born Chelsea was doing volunteer work in Yamir's native Nicaragua, reportedly filed for a dissolution of marriage on November 30, 2016. The couple had a court hearing on December 9 in Illinois, where the divorce was disposed.
It is not known where Yamir is in his quest to obtain American citizenship. He is currently living in Illinois and concentrating on his music career.
Chelsea and Yamir have basically scrubbed each other off of their Instagram accounts. The last time Chelsea posted a photo that featured Yamir was over 10 months ago. Yamir posted his last photo with Chelsea about eight months ago.
Unfortunately, Chelsea and Yamir aren't the only couple from '90 Day Fiance' Season 2 to be having difficulties in their marriage. Starcasm recently reported that Jason Hitch and his wife Cassia are also struggling. Cassia even recently moved out of the home she shares with Jason.
Wanna revisit a happier time in Chelsea and Yamir's relationship? Click here to view their wedding album from 2014!
(Photo: Instagram)