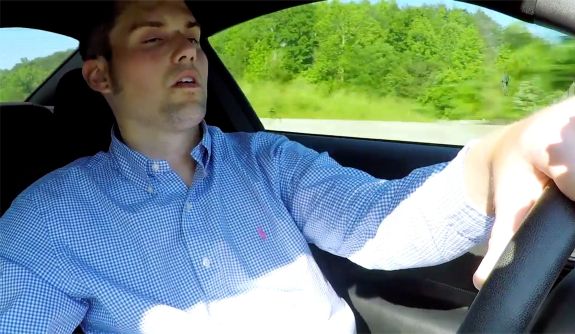 Monday night's Teen Mom OG season finale was full of dramatic scenes, but none were as drama-filled (and downright scary) as the scene in which Ryan Edwards is shown driving to his wedding and nodding off while behind the wheel. His bride-to-be, Mackenzie, frequently had to nudge Ryan to keep him awake and, after turning off the GoPro car cameras, accused Ryan of being under the influence of Xanax.
Since the episode, 'Teen Mom OG' viewers have been outraged, taking to social media to scold the show's production crews for not stopping Ryan while he was driving to intervene.
The Ashley spoke to a 'Teen Mom' crew member who, on the condition of anonymity, revealed why the show's production crew didn't intervene and stop Ryan.
"The reason the producers didn't stop Ryan from driving after he was seen nodding off is because the producers would not have been able to see him nodding off," the crew member tells The Ashley. "That footage (and almost all car footage) is captured on Go-Pro cameras installed on the dashboard. We do not have a live feed to watch the cast in their car, despite what some viewers think. We do not have live eyes on them the whole time we're filming them.
"That footage is captured and watched a few days later after the producers/crew get home from the shoot. It's edited in later. When things happen in the car, we don't know about it until the cast tells us, or when we watch the footage later on."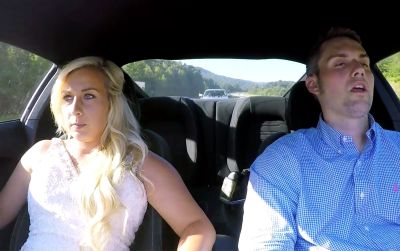 Cast members are supposed to alert production if something important happens during a car ride, or if there's an important conversation that takes place, the source said.
"In the case of Ryan, he or Mackenzie would have had to alert us  to watch the footage ASAP," the crew member continued. "We wouldn't have seen it happen as it was filmed. Obviously, Mackenzie unplugged the GoPros, which isn't really allowed, but we wouldn't even know she turned them off until later when we watched the footage."
The cast does usually wear mics while driving, and the producers can communicate with them via a walkie talkie in the car. But, again, there is no visual live feed inside the car.
'Teen Mom OG' viewers have been accusing the show's producers of allowing Ryan to continue to drive because it would make for good ratings, but the source insists that's not the case at all.
"People think that the production crew is just looking for footage that will get the best ratings, no matter what and that is not true at all," the source said. "We really do care about the safety of the cast and other people. A lot of these people on the show are our friends."
The production source tells The Ashley that the producers also have a personal stake in keeping everyone on set safe.
"Even if you take the human decency element out of it, we care because it's our butts on the line if something happens," the source said. "The show would have been absolutely liable had Ryan gotten into an accident or something while filming, even if the producers were not aware that he was under the influence. It doesn't matter, we are still liable. They would be risking their jobs and possibly be liable personally for allowing that to happen."
The source suggested that Ryan may have taken something that started to take effect as he was driving.
"Had Ryan been, for instance, falling asleep or acting erratic right before getting in the car, and a crew member saw it, we have to report it and intervene," the source continued. "Not only would the show be liable if something happened, but that producer on set would have absolutely lost their job, and possibly so would any crew members. We are not allowed to watch something illegal take place and not intervene."
No production members ride with the cast while filming in the car, so there was no one (except for Mackenzie) to witness what was happening inside the car.
"Even if the crew was following Ryan while driving, they weren't in the car with him and could not see what was happening," the source said. "Had he been violently swerving or something, they absolutely would have called to see what was happening and would have intervened. In that situation, though, the only person aware of what was happening would be a passenger in the car."
The source says that, in the past, crew members have had to intervene when something was deemed unsafe. (A few instances involving 'Teen Mom 2' star Leah Messer come to The Ashley's mind. Most of those incidents were not aired.)
"Producers have intervened in the past. Viewers don't always get to see those scenes," the source said. "But one memorable time they did have to intervene because something was unsafe and it actually made it on the show is when Jenelle and David left the [most-recent] 'Teen Mom 2' reunion with Jace when they weren't allowed to. That's why [producer] Larry [Musnik] had to call the police. The show and possibly Larry personally would have been liable had something happened to Jace. Larry even made a comment about it when David told him that the situation had nothing to do with the production. Larry said 'It has everything to do with us' and that's why."
The franchise's executive producer, Morgan J. Freeman, once addressed this topic in an interview.
"We're there to document things, but if someone is doing something that puts someone in harms way we would definitely step in." Morgan told Observer in July 2015. "There's no science to it, it's a human thing. If someone was in danger yes we would step in, but for parenting decisions we don't step in. You know when that line is being crossed. We put the welfare of everyone front and center."
UPDATE! MTV has released a statement regarding the scene.
"MTV does not condone driving under the influence," the statement made to Us Weekly on Wednesday reads. Ryan's erratic behavior was due to actions that he took without anyone's prior knowledge."
(Photos: MTV)