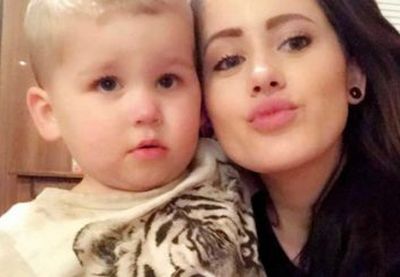 Angry Teen Mom 2 fans took to social media last night to lash out at MTV and Jenelle Evans after the network aired this week's episode of the show, which contained a shocking scene revolving around Jenelle's young son Kaiser. Fans were appalled as they watched Kaiser scream for food and be yanked around by Jenelle's husband David Eason, as an MTV film and production crew stood by watching.
Jenelle, who had deactivated her Twitter account hours before the controversial episode aired, finally took to Instagram late Monday night to address the episode, her frustration with the show's producers and her future on 'Teen Mom 2.'
In a series of Instagram rants, Jenelle revealed that she was "probably calling it quits for filming this show." (As The Ashley just told you, though, Jenelle is not going anywhere any time soon!)
She also stated that being on the show was harmful to her and her family.
"It's getting to out of hand and it's not healthy for us anymore, just harming us mentally," she wrote. "They treat all of us as if we are in a freak show and in cages. WE aren't human beings to @mtv what-so-ever."
Jenelle, of course, left the door open for herself to go back to the show by adding, "Once they treat me with respect I'll be back, if they don't I'll be happy with the life I've got."
"I've blocked all my producers numbers," Jenelle wrote in another post. "I will not stand for the negative s**t anymore. I'll be off social media for a while to be focusing on solely my family."
(Naturally, Jenelle was back on Instagram within 12 hours, hawking some sort of miracle lashes or whatnot. Her Twitter account remains deactivated…for now, anyway…)
Last night, the official @TeenMom Twitter account got a lot of backlash from angry fans when they chose to turn the clip of Kaiser screaming "FEED ME!" to his mother, who was very busy taking her engagement photos with her soulmate, into a meme about being hungry.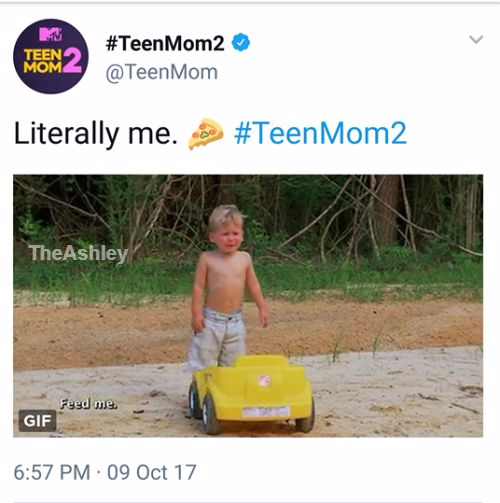 Fans were outraged that the network was making fun of Kaiser's plight, and many responded angrily to the post.
"This is gross," one fan tweeted back to MTV. "Way to capitalize on child abuse and neglect. Kai did not sign on to have his life exploited by MTV! This needs to be deleted."
"He was screaming and crying because his mother is neglecting him and won't give him food," another person wrote. "It's not funny."
Even 'Teen Mom 2' cast members commented on the disturbing post.
"You might want to pull this tweet #NotFunny," Randy Houska wrote in response to the tweet.
"Is there an intern running this account?" Kail Lowry tweeted. "There's nothing funny about this."
"I'm so sick to my stomach right now," Ashley Lanhardt, the girlfriend of Kaiser's dad Nathan Griffith, tweeted. "No editing can fake that…why would you post this? This is disgusting! Not a joking meme! I'm appalled. MTV how can you guys film such abuse?"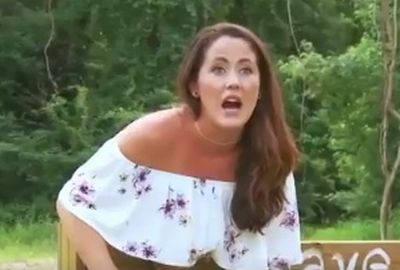 In her Instagram rant, Jenelle attempted to explain why Kaiser was yelling "FEED ME!" to her and David. She claimed it was due to his speech issues, insinuating that Kaiser didn't actually mean he wanted to be fed. However, this is not the first time fans have expressed concern for Kaiser's well-being after watching Jenelle and David's treatment of him on 'Teen Mom 2.'
She later told People that Kaiser screaming "Feed me!" had nothing to do with food.
"He was actually yelling and pointing at Jace because Jace took his toy," Jenelle insisted. "They bicker like this all the time."
As The Ashley previously reported, Nathan's mother, Doris Davidson, filed for emergency custody of Kaiser last month, but eventually dropped her bid. A court case was supposed to take place at the beginning of this month but was continued due to Doris' husband needing surgery.
Jenelle spoke to People on Tuesday, telling the magazine she feels she's "always portrayed as 'the bad one' to them no matter how much I change."
"I don't like the fact that I've changed for the better and happily married, yet [people] perceive David as some angry dad that gets annoyed by his children," she added. "Or, if MTV does not have the drama from the storyline they want, they try to create drama as hard as they can."
(Photos: Instagram, MTV, Facebook)