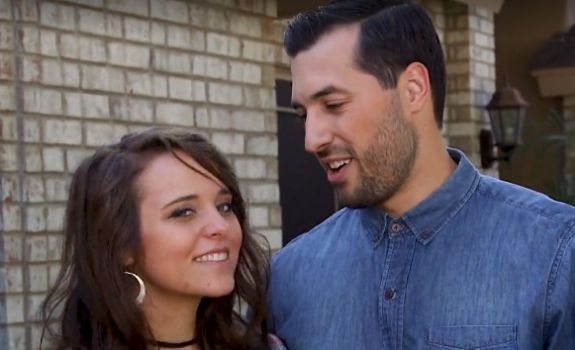 A pregnancy announcement from the Duggar Family seems to come nearly every month, but the one issued on Wednesday caught Counting On fans by surprise!
Jinger and Jeremy Vuolo–who, unlike Jinger's siblings have famously held off on starting a family in order to enjoy life as newlyweds– have announced that they are expecting their first child.
The couple made the big announcement on their family website.
"The past 14 months have been the best of our lives as we have had the wonderful privilege of beginning our journey through life together in marriage," the Vuolos wrote. "We both looked forward to the joys of marriage but neither one of us fully understood just how amazing the start of this journey would be. Truly, the Lord's mercies are new every morning! Now, the journey has taken an exciting turn: we are expecting our first child! We are praising God for this beautiful gift and ask that you join us in praying for a safe and healthy pregnancy."
Jinger is the only married Duggar offspring to make it to her first wedding anniversary (which passed in November) without announcing a pregnancy. In that time, though, the couple managed to buy their first home in Laredo, Texas.
In a video made for TLC, Jinger and Jeremy stated that they are overjoyed to become parents.
"It's super exciting; it's just hard to believe that we're at this new stage in life," Jinger said.
Both Jinger and Jeremy suspect that their new addition will be a boy.
"But I'd love to have a little princess!" Jeremy said.
Of course, Jinger and Jeremy are not the only Duggar Family couple expecting a baby in 2018. Jinger's younger sister Joy-Anna and her husband Austin Forsyth are due to welcome their first child around February, and Jinger's younger brother Joseph and his wife Kendra are also expecting.
Jinger and Jeremy have not yet revealed when Jinger is due.
Watch Jinger and Jeremy's baby announcement video below:
(Photo: TLC)