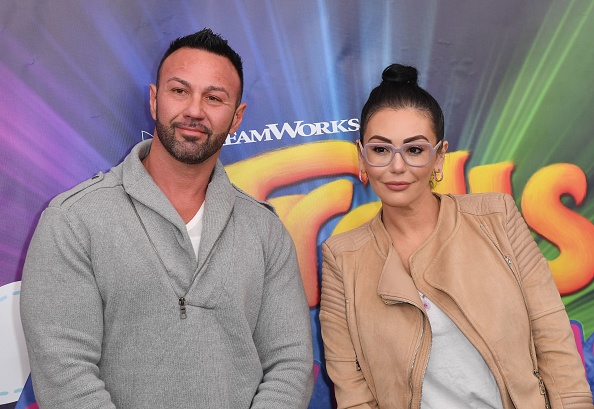 "Get crazy, get wild" isn't just a lyric from the Jersey Shore theme song, apparently.
On Thursday night (and early Friday morning), things got crazy and wild at the home of Jenni "JWOWW" Farley and her estranged husband Roger Mathews, resulting in the cops being called (twice!) and Roger being escorted off the property at 2 a.m. As a result, Roger gave his Instagram followers a complete run-down of events, even posting video while he was in the back of a cop car.
(As The Ashley previously reported, Jenni filed for divorce from Roger back in September, but in recent months the couple has been "working" on their marriage.)
Roger claimed in the videos that it was Jenni who was having an emotional meltdown— not him– and that he called the cops to prevent Jenni from making false charges against him. However, Jenni and her best pal Nicole "Snooki" Polizzi are denying Roger's claims.
Since the incident Thursday night/Friday morning, Roger has posted numerous videos, Snooki has posted surveillance footage from inside Roger and Jenni's home, and Jenni has released a statement. The Ashley has attempted to organize the info below.
What We Know For Sure: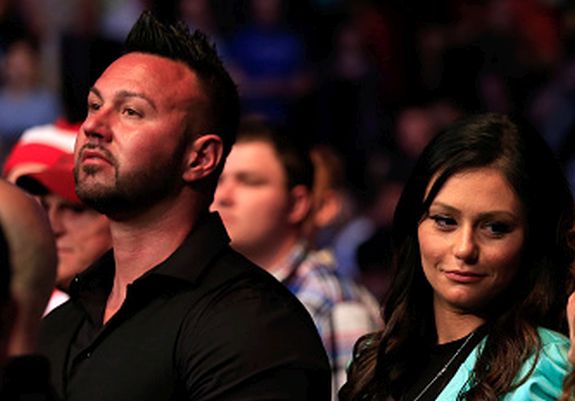 Toms River police went to Jenni and Roger's New Jersey home around 1 a.m. after getting a call regarding a "civil matter," police spokeswoman Jillian Messina told NJ.com in an email. "Mr. Mathews was served with a temporary restraining order and provided transportation to another location."
That "transportation" was a cop car (as evident by Roger's Instagram video posts). However, he was not arrested; he was simply transported to a friend's house, as he is no longer allowed at his home, thanks to the restraining order.
We know that Jenni told the police that, although she wanted Roger to stay away from her, she did not want him to be forbidden from seeing their two children because of the restraining order. (We know this happened because Snooki posted surveillance footage that was filmed in the couple's kitchen while the cops were there.)
"He should be allowed to see them … He's not a bad dad," Jenni tells the officers who are explaining to her how to get a restraining order.
What Roger Says Happened:
In a series of Instagram posts (that included 10 videos), Roger explained his version of events.
According to Roger, he and Jenni got into a "disagreement" about her leaving for a work engagement while his daughter was sick with the flu. During the argument, Roger said Jenni got "completely, uncontrollably emotional like she always does" and threatened to call the cops on Roger. He decided to call the cops himself and file a report, as he said he was worried Jenni would file false claims against him with the police. (He stated he feared she'd go into the bathroom and punch herself in the face and blame him.)
"It's typical Jenni," Roger says in the first of 10 Instagram videos. "Her last two exes can attest to that."
Roger says the police came (after he called them), because Jenni was "hysterically shouting" at him in front of the kids, telling the kids that she regretted having children with him, and that he was a "piece of s**t" and was "out of here." (Roger claims that his daughter Meilani spanked him and told him he was bad after Jenni said this.)
Roger claims after the disagreement with Jenni, he left home to do a podcast interview and returned around 11:30 p.m and went to bed.
"I got woken up at 2 in the morning by two officers that said she contacted a judge and filed a restraining order," Roger says in the video.
"Now I have a restraining order," Roger said in the second video. "I'm not allowed to go home and see my children."
Roger said in another video that he initially thought it was a bad idea to post about his troubles with Jenni on social media, but after this incident he has changed his mind.
"I believe putting the truth out there weighs in my favor," he said. "I can't see my children, my children who I spend every single day with."
"My ex can not control her emotions and literally turned my child against me. My daughter…the look in her eye…because her mother can't wait until they go to sleep to have a disagreement, she has to do it in front of [the kids]."
In another video, Roger defended his decision to discuss the incident on social media, claiming that Jenni's fame from being on 'Jersey Shore' works against him.
"How does somebody combat, for lack of a better word, somebody who has insane popularity, is beloved and is on the Number 1-rated show of all time? The truth. That's how you combat them, the truth. I'm going to bring you the truth from here on out. Stuff that you have no idea that existed or went on. I'm not good at a lot of things. I was horrible at reality TV, it was never my thing. But what I'm good at is speaking the truth."
In another video, Roger claimed that, although he was working to try to save their marriage after Jenni filed for divorce, Jenni seemed to have no interest. In fact, he claims she was working out a side deal to discuss the divorce at length on the upcoming third season of Jersey Shore Family Vacation.
"You're gonna see about our divorce on 'Jersey Shore.' You know why? Because my wife– my ex-wife– told me when we were in counseling that she's negotiating a side deal— I think she said she wanted $70,000…to talk about our divorce on the upcoming season. Everything is about money with her. All I want is time with my children."
Roger told TMZ that he recorded the incident with Jenni on his phone, after his attorney advised him to do so. He also told the site that Jenni has five security cameras inside their home that record at all times. However, she is the only one with access to that footage, and that she has threatened in the past to edit the footage and use it against him.
What Jenni Says Happened:
Jenni has remained very quiet in regard to her marriage since she filed for divorce in September. While she and Roger have attended a few events together since that time, she has not really spoken publicly about her reasons for filing.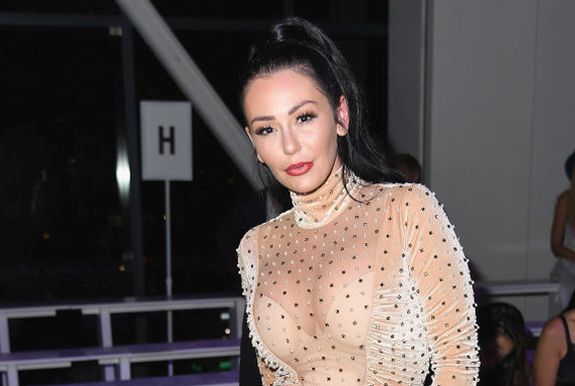 After Roger posted his videos to Instagram, Jenni's team released a statement, which Jenni posted to her Instagram account.
"While Jenni has refrained from making any public statements relating to her impending divorce, in light of recent events we have decided to make an official statement. Certain events transpired last night which [led] Jenni to involve the authorities, as she felt it was in her best interests, and the best interests of her children to do so.
"Any statements and social media posts depicting anything to the contrary are false, misleading and intentionally designed to cast Jenni in a negative light. She is proud to be a hard-working parent who provides for her children. While we have chosen not to comment further, we will note that a judge immediately ruled in Jenni's favor and issued a temporary restraining order of protection last night. Please respect Jenni's decision for privacy in an effort to protect herself and her children at this time."
On Friday, Snooki posted the surveillance footage video to her own Instagram, and released a statement of her own.
"My best friend has been going through A LOT these past few months and my heart breaks for her," Snooki wrote. "She always tries to keep her situations off social media for the sake of the kids, but her voice needs to be heard too. She has tried everything in her power to keep things civil FOR THE KIDS and she's a damn good mother. She doesn't leave her kids for months at a time for work. She leaves filming to care for her children that you don't see.
"Her character is being tarnished and I'm here to show what's really going down," Snooki continued. "She wants nothing but for the kids to have their dad. Unfortunately she was being taunted and baited & this was the result. YOU'RE AN AMAZING MOTHER AND PERSON and all of us who truly know you know this."
Snooki claimed that she posted this video to show that Jenni did, indeed, ask that Roger be able to see the kids.
"There is more to the story that's being told," Snooki wrote. "Stop attacking her. She HAS BEEN asking the cops to tell the judge to allow Roger to see the kids. Everything he has stated in those videos is false news. You shouldn't taunt her and film her on your phone trying to get a rise out of her to use it for court. There is MANY layers to this. And more videos. Legally i cannot post those but will be used when necessary. You can all have your opinions but don't attack her for being that person he claims she is. Everything will unfold in due time.
"For those who find it 'funny' as to why the comments are off, it's because you are attacking Jenni calling her a bad mother and liar. Leave the girl alone."
The police have yet to release the reports that document what went down last night. (They have up to seven days to do so, according to the law.)
The Ashley will update this story when more info is available!
(Photos: ANGELA WEISS/AFP/Getty Images; Alex Trautwig/Getty Images; Nicholas Hunt/Getty Images' Instagram)