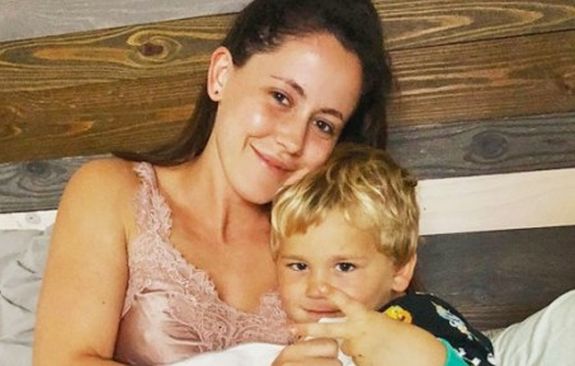 "Peace out, Dave!"
Jenelle Evans is having a very bad week.
The Ashley can exclusively reveal that the recently-fired Teen Mom 2 star had her son Kaiser removed from her care on Friday. The boy– whom she shares with Nathan Griffith— was picked up on Friday by a family member.
The Ashley's sources tell her that the detective that's currently investigating Jenelle's husband David Eason for the brutal murder of Jenelle's dog earlier this month was the one who called CPS and recommended that Kaiser not return to The Land.
"CPS authorized a family member to get Kaiser from his daycare on Friday," the source said.
View this post on Instagram
The Ashley is not sure of all the details, but she has been told that there was no new incident that caused CPS to become involved, except for the phone call from the detective.
"Kaiser will likely be staying away from The Land until CPS can get things sorted out," the source added. "A judge will be given the case today to sign off on, at least for the foreseeable future."
As The Ashley previously reported, Nathan has been fighting for custody of his son for almost a year, and is due to face Jenelle in court on May 30 to begin their custody battle for Kaiser.
As The Ashley told you last week, Jenelle's other son Jace is being kept away from The Land by her mother Barbara Evans, who has custody of the boy. After Barb learned about David killing the family dog, she has refused to allow Jace to be around David.
View this post on Instagram
Currently, Jenelle and David's daughter, Ensley, is still in their care. David's 11-year-old daughter Maryssa is as well, as David has full legal custody of her, and has since 2017.
The Ashley will have more details soon.
**Media outlets MUST credit and link back to The Ashley for this exclusive!**
UPDATE! CPS is now reportedly looking into the welfare of Jenelle and David's daughter Ensley, as well as David's daughter Maryssa! Click here for more details!
UPDATE #2! Jenelle has released a long statement, confirming that Kaiser was taken by CPS on Friday and that Jace is not allowed on The Land. Click here for details!
RELATED STORY: EXCLUSIVE! Jenelle Evans Cuts Mom Barbara Off Again After Barbara Refuses to Allow Jenelle's Son Jace Near David Eason
(Photos: Instagram)