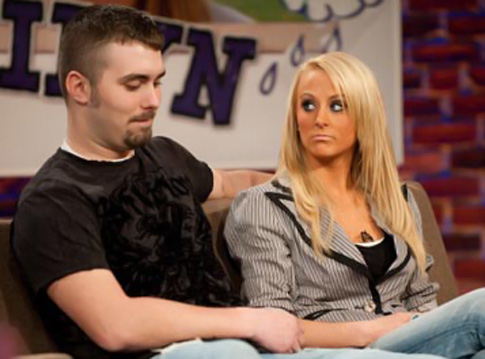 The Ashley has purposely held off on writing about this for one simple reason: I don't like to write about rumors. I don't want my website to turn into a stew of lies and made-up crap, therefore I really try to only write about things that I know are true. If I'm not sure about the authenticity of a story, I will always tell you. So I'm telling you now, I do not know what's going on with them. But I will present the facts and tell you why I think it's true.
Anyway, the Teen Mom fan world has been up in arms since OK! and InTouch magazines published coinciding reports that Leah and Corey are divorcing after only six months of marriage. Even reputable news outlets like ABC News have picked up the story and written about it as truth.
Of course, this isn't the first time that rumors of a breakup have swirled. Back in March, InTouch wrote another cover story about them splitting. (The Ashley talked about this story here.) That story turned out to be a bunch of BS, which Leah addressed on her Twitter, telling fans that it was untrue.
This time, however, is much different. For one, the magazines actually did some reporting (shocking, I know) instead of just sitting on their asses at their desks in New York and writing lies. They actually flew someone out there to Clay County, West Virginia to see what was going on.
In fact, OK! had someone follow them to the courthouse near their home and watch them pick up what they've confirmed to be either custody or divorce papers. (Either way, not good.)
InTouch is claiming that the split is mainly over money:
"The final straw came recently, when he transferred $19,000 out of their joint bank account to buy himself a new truck — depriving Leah of money she needs to make ends meet. "He did it without telling Leah, even though the money is mostly her earnings from MTV," a friend shares exclusively to In Touch. "When she found out, they had a vicious fight and she left him."
The article also claims that Corey met with a lawyer on Tuesday night at 10 p.m. This can be a bunch of bull, of course, but this is pretty detailed info for OK!
In short, here's why The Ashley believes that the rumors may be true:
Most tellingly, Leah shut down her official Facebook fanpage on Thursday. In the past, when rumors regarding her family or marriage have been presented, she's almost immediately responded via the Facebook. Her best friend, Amy LaDawn, has also disabled her Facebook. (Amy interacts with Leah's fans frequently.)
When asked to confirm or deny the rumors of a split, Amy told the fans that "she could not comment at this time." In the past, she's been very quick to help Leah squash any rumors.
A simple "we are not divorcing" tweet from Leah would be enough for most to believe that the rumors were not true. She's chosen not to do this, which is odd. The last time rumors about her marriage popped up, she did this and they went away.
She was photographed picking up the papers (as was Corey.) She was also photographed going out to dinner last night alone with the babies. At the finale, Leah and Corey told Dr. Drew that Friday night is their "date" night.
As stated before, major news sources are reporting its true. They tend to have to check out the validity of stories before they post them as truth.
So far, no one has denied that the rumors are false.
Here's what I think is really going on: they are separated (which doesn't always mean divorce). They are currently filming the second season of Teen Mom 2 and are not allowed to comment on anything that will be shown on the show.
They can't deny the claims, therefore they are choosing to not comment on them, as we will get to see the true story when the season airs. MTV doesn't want any info out there that will spoil their show.
What do ya'll think? I really wanted them to work out, but I'm thinking that this is one time that the tabloids may have gotten the story right. (You have no idea how much it hurts me to say that!!)
I will update when I have more info.
Update : So sad to have to say this, but the divorce rumors are TRUE! Corey and Leah's names have been registered under people filing for divorce in West Virginia. Here's the official link for confirmation. Starcasm just posted photos of Leah discussing the divorce with a friend, with divorce papers in hand. The scene was being filmed for the second season of "Teen Mom2"  So sad! This is worse than when Sonny and Cher broke up!