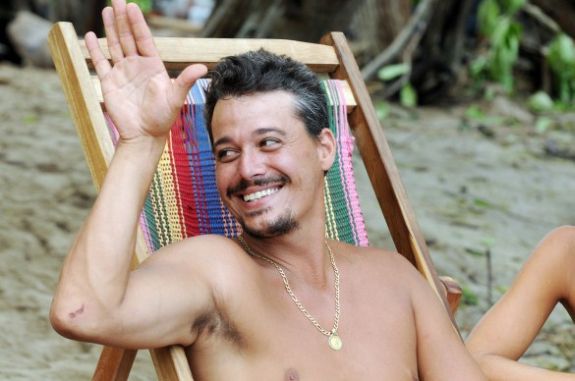 If you've been holding your breath, waiting to hear if  "Boston" Rob Mariano will ever come back to play the game  of Survivor again, you can go ahead and exhale. It's not happening.
Rob told The Ashley (and a few other reporters during a recent Q & A session) that there's no chance his Boston Red Sox hat will ever be seen on another 'Survivor' island. (Unless he sells it on eBay and some other contestants buys it and wears it for good luck!)
"I've gotten everything I wanted to ever out of Survivor," he said. "I won the show — that was my ultimate goal — my wife won the show. So as a contestant I won't be back on Survivor."
Fans will be able to get their fill of Boston Rob by watching his new show, Around the World in 80 Ways (see what they did there with the title–clever, yes?)  It's a ten episode series that premieres on HISTORY next Sunday, October 2, at 10 p.m. (You can read more about that show here!)
What else can we expect from Boston Rob in the future?
"I would like to stay involved on the production aspect of television — continue hosting, but also to delve into producing a little bit more and to try to create some original content," he said. "Amber and I have talked about starting our own production company. So I think that's where the future will ultimately end up."
Despite what he says, The Ashley has a hunch that someday we will once again see Boston Rob scampering around the island looking for immunity idols!
In the meantime, watch a teaser of the new show here!
(Photo: CBS; Video: HISTORY)