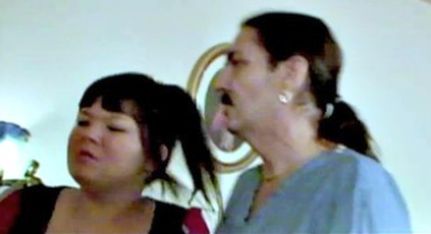 Shawn Portwood, the often-outspoken brother of troubled Teen Mom star Amber Portwood, recently wrote a touching essay about his father, Shawn Sr., who is in need of medical care after suffering through a variety of ailments.
It's been a rough couple of years for the Portwood family. In June 2012, Amber was sent to prison. Meanwhile, her father was suffering from cancer of the voicebox, as well as liver failure, among other ailments. According to Shawn, his father currently does not have any teeth (due to them having to be removed before he could do chemotherapy to treat his cancer) and is currently on a liquid diet. He's asking the public to donate to help his dad get a set of dentures.
"When my father was healthy before all of the illness, cancer, etc., he weighed a little more than 200 pounds," Shawn wrote in the essay posted on the GiveForward.com page set up for Shawn Sr. "I think he barely weighs 140 pounds right now because he has no teeth and cannot eat the foods he needs to. He is basically on a liquid diet as of right now."
Shawn also opened up about his (and Amber's) rough childhood.
"My sister and I love my father more than anything. Life with him was a little rough at times, I must admit, but either way, he is our father," he wrote.
"He will not live a long prosperous life but I do want him to enjoy the life he has left."
Shawn Sr. has not been able to visit his daughter since she entered the Rockville Correctional Facility.
If you'd like to learn more about Shawn and Amber's father, or would like to donate, click here.
(Photo: MTV)