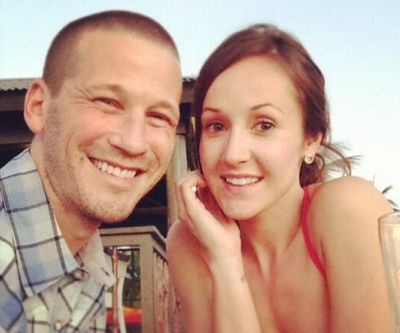 Another child will be able to thank The Bachelorette for his or her existence because Ashley Hebert and her husband (whom she met on the show) JP Rosenbaum have just announced they are expecting their first child!
Ashley chose JP from a bevy of suitors back in 2011, and they married in a made-for-TV wedding extravaganza in December 2012. The couple discovered that Ashley was pregnant at a very coincidental time: while in Santa Barbara to attend Bachelor Sean Lowe's wedding to Catherine Giudici!
"That's when we officially found out — of course it would be at a 'Bachelor' wedding!" JP told In Touch Weekly, who broke the story.
The couple told the magazine that they only had to try for about two months before Ashley got pregnant. She is about three months along and due in October.
"I'm a little nervous, but we're very excited," Ashley told In Touch. "I've wanted a child for a while."
The happy couple received congratulation messages from other 'Bachelor' franchise alum.
Yay!!!! @ashhebert & @JP_Rosenbaum news is out!Bring on that belly! Congrats lovers! We are soooo excited for you! Welcome to the club! Xoxo

— DeAnna Stagliano (@DeAnnaPappas) March 26, 2014
Soooo happy for you @JP_Rosenbaum & @ashhebert 😉 This will change your lives in the most amazing way!!!! 🙂

— Molly Mesnick (@MollyMesnick) March 26, 2014
A tear in my eye & a big smile this morning, overjoyed for @ashhebert @JP_Rosenbaum expecting their first. Love you guys so much Mazel Tov!
— Chris Harrison (@chrisbharrison) March 26, 2014

Congrats to Ashley and JP!
(Photo: Twitter)