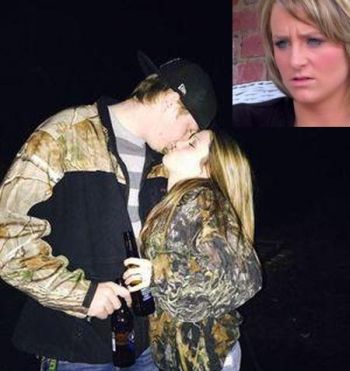 Robbie Kidd has been the person that Teen Mom 2 star Leah Calvert has ran to every time her marriage(s) have started to fall apart. Leah has allegedly had two affairs with Robbie, once during her marriage to Corey Simms (which she admitted during an episode of 'Teen Mom 2') and once earlier this year, despite the fact that she is currently married to Jeremy Calvert.
Robbie recently admitted that he did, indeed, sleep with Leah back in October, just as Jeremy had said when he called his wife out on Twitter.
"Whenever things are going bad in our lives, we reach out to each other, and this is what happens," Robbie said of his relationship with Leah, whom he dated back in high school.
The dynamics of their relationship are about to change, however. A source has revealed to The Ashley that Mr. Kidd is about to take a Mrs.– and it's not Leah! (Obviously.)
"Robbie recently got back together with his ex, Monica, who is the mother of his baby," the source said. "They just got back together in November and are now engaged to be married."
The source also revealed that Robbie and Monica are fast-tracking the engagement big-time: In fact, they're planning to get hitched this weekend! Monica has already started using Robbie's last name on her Facebook account.
Clearly, Leah's marital status has never been a factor in her decision to have a romp with Robbie, but Robbie may feel differently once he's the one wearing a wedding band.
In his tell-all interview with In Touch Weekly, Robbie said his most-recent tryst with Leah occurred while he was broken up with Monica. He also revealed that his renewed relationship with his baby momma is the reason he wants nothing more to do with Leah.
"We'll always have a connection, but I'm tired of the drama," Robbie said. "I'm finally happy with where I'm at in my life. I don't want anything to do with her anymore."
To catch up on all the latest Leah/Robbie/Jeremy drama, click here!