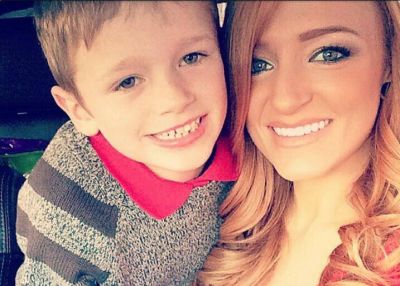 Teen Mom star Maci Bookout is thankful to be alive after she and her son Bentley were involved in a horrific roll-over crash earlier this weekend. Maci, who is currently pregnant with her second child, shared chilling photos of the accident, which appears to have occurred on a Tennessee highway.
In a post to Instagram, Maci told her fans that her white Jeep (which she had nicknamed "Betty White") had rolled three times during the accident. Luckily, she and Bentley escaped the horrific accident with only bumps and bruises and had no major injuries. Maci's unborn daughter also came through unhurt.
"Thanking God that Bentley and I were able to walk away from this nightmare with only a few bruises," Maci wrote on Sunday. "Thanking God that my unborn baby girl is perfectly healthy after this. I'd also like to @JeepOfficial @Jeep because if our seatbelts and the roll cage had not done their job, I'm not sure my family and I would of had the same outcome. Thanks to everyone that stopped to help, that was huge. I pray everyone else involved is doing okay. #jeepwrangler #rolledthreetimes #terrifying #totaled #notmyfault"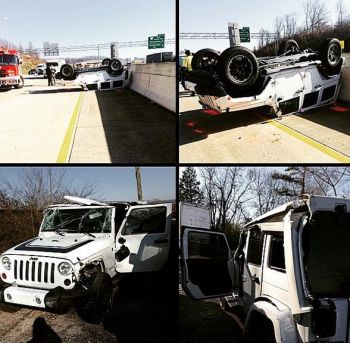 Fellow 'Teen Mom' Chelsea Houska (who also drives a Jeep) responded to Maci's post.
"Scary! So glad you guys are ok!"
Maci has only had the white Jeep since October. Before that she was driving a silver one.
Maci and her family have been plagued by vehicle-related accidents over the last few years. Just last month, her ex, Ryan Edwards, was involved in a head-on car crash that left him and the other driver involved injured. (He has since recovered.) In October 2013, Maci's brother, Matt Bookout, was involved in a very serious dirt bike accident that nearly claimed his life. He suffered significant injuries, including a fractured skull. He, too, has recovered.
It is not known whether or not the accident will be covered on the upcoming fifth season of 'Teen Mom.' Generally, the moms and dads featured on the show have cameras set up in their cars; however, they may not have been filming at the time.
(Photos: Facebook, Instagram)