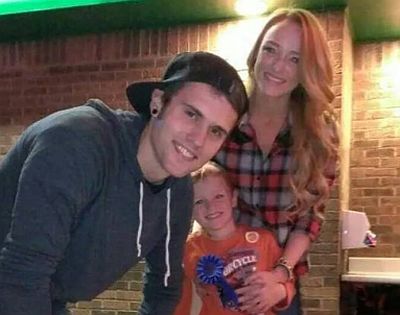 Teen Mom stars Maci Bookout and Ryan Edwards have struggled to get along since we first met them on 16 and Pregnant back in 2009. The once-engaged parents of six-year-old Bentley have fought on (and off) camera for years, but seemed to have finally settled (most of) their differences by the fourth season of 'Teen Mom.'
While it's very unlikely Maci and Ryan will ever get back together (being that Maci's currently pregnant with the baby of her live-in boyfriend, Taylor McKinney), they are getting along better than ever these days, according to a recent post on Maci's official Facebook page.
The admin of her page spoke to Maci about how Ryan, who is currently single, felt about Maci having a baby with Taylor.
"He is very happy for her baby news and has been completely supportive!" the post reads. "Taking some time off from filming constantly gave them [both a] needed relaxing break and helped them gain perspective."
Before Maci met Taylor, fans were hopeful that she and Ryan would reunite, but as Maci explained to In Touch in 2013, they were never meant to be.
"I don't think he's the right person for me," she told the magazine of Ryan. "I'm in love with Taylor, not Ryan."
Although Maci is no longer a teenager (she's currently 23 years old), she is apparently still worried what the show's fans will say watching her second pregnancy unfold on the upcoming fifth season of 'Teen Mom.'
"Maci is nervous about the upcoming show, wary of being judged for not being married..but hopes the fans will support her and her life choices no matter what," her admin wrote.
Earlier this month, Maci announced that she and Taylor were expecting a baby girl in June. The couple has been living together since last summer, when Taylor moved from Texas to Tennessee to be with Maci.
(Photo: Facebook)