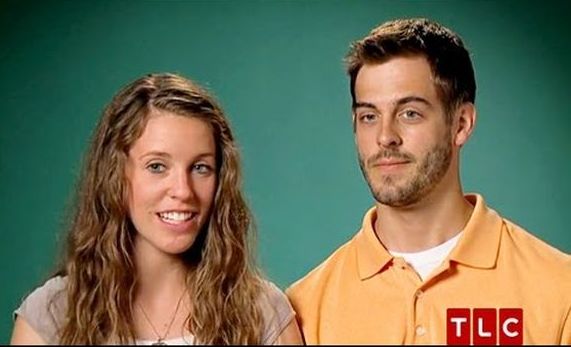 Derick Dillard has yet to speak to the press regarding the sex abuse scandal involving his brother-in-law, Josh Duggar; however the husband of 19 Kids and Counting star Jill Duggar is busy making big moves of his own. While his in-laws and wife were in the spotlight due to their interviews with Megyn Kelly last week, Derick quietly resigned from his job as a tax account at Walmart.
The Duggar Family News: Life Is Not All Pickles and Hairspray Facebook page was the first to notice that Derick, who was basically the only '19 Kids and Counting' star to have a job outside of Jim Bob's kingdom, left his job at Walmart.
To investigate, The Ashley sent Derick an email via his work email address and received the following automated response. (She has redacted some info to protect the privacy of Derick's co-workers.)

Why would Derick– who is a newlywed and new father– quit his job?
It has long been rumored that Derick and Jill were heading overseas to do mission work. Now that Derick has left his job, it appears that this will happen sooner rather than later. On the last episode of '19 Kids and Counting,' Derick and Jill teased that they had a big announcement, which appears to have been plans to head overseas on a mission trip, with Baby Israel in tow. (It's rumored that they will be heading to Nepal, however, nothing has been confirmed yet.)
Before news of Josh's scandal broke, TLC appeared to be setting up fans for the next season of '19 Kids and Counting.' The season would follow Derick and Jill on their mission trip, as well as Jessa Duggar's pregnancy, the birth of Josh and his wife Anna's new baby, and Josiah Duggar's new courtship. Of course, with the show on the brink of cancellation, it appears that all of that will now have to play out off-camera.
The Daily Mail reports that footage for several of next season's episodes has already been filmed, including Ben Seewald's birthday (which occurred the day before the scandal broke), Jessa and Ben's first ultrasound appointment, Ben's community college graduation, Jill struggling after Israel's birth and Josiah asking Marjorie Jackson to court.
The newspaper also reports that a scene involving Derick and Jill's mission trip announcement had already been filmed and banked for next season.
"They tell the family they want to go for an extended amount of time to [Nepal] – and they're taking baby Israel," Daily Mail reported. "Jim Bob and Michelle are genuinely caught off guard by the revelation, according to the insider. Jim Bob goes sheet white. It's obvious he wasn't big on this idea and it was meant to be a dramatic moment for the show. The family offers to 'pray' for Jill and Derick as they make this momentous decision."
Whether or not that footage will ever see the light of day remains to be seen. TLC has yet to announce the fate of '19 Kids and Counting.' However, fans hoping to keep up with the Duggars– well, the Seewalds and Dillards anyway– will be able to follow along via social media, as Derick, Jill and Jessa have begun using their Twitter, Facebook and Instagram accounts again.
(Top Photo: TLC)