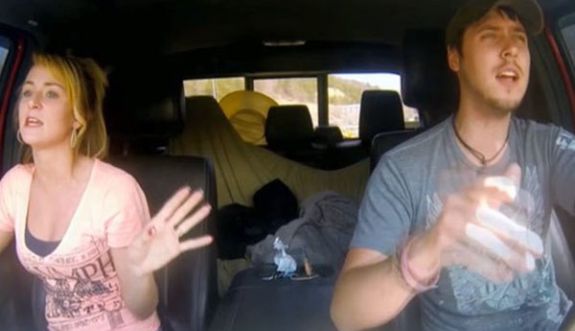 The Ashley hates to say she told ya so but…. she told ya so…
Earlier this month, The Ashley shut down the rumor that was circulating that Teen Mom 2 star Leah Messer was back together with her ex-husband, Jeremy Calvert. The rumor began to run rampant after Jeremy and Leah were spotted together at Leah's daughter's holiday recital. The Ashley told you that Jeremy and Leah were simply co-parenting their daughter Addy and were not getting back together, but In Touch still insisted that the couple was reuniting.
"It was clear that they're back on — they were acting like a happy family," In Touch stated.
Yeah…they aren't together. Still. Just like The Ashley told you last week, Jeremy has no interest in being back together with Leah, and Leah is still living with her boyfriend, T.R. Dues.
Jeremy finally had enough and took to Twitter to tell off the magazine and set the record straight on where his relationship stands with his ex-wife.
"It's pretty sad that you cannot coparent like mature adults for the children without being accused of being back together," Jeremy tweeted to In Touch on Tuesday. "I think next time you want to write an article, please use a credible source rather than someone needing Christmas money."
Jeremy confirmed what The Ashley had said and stated that Leah is still with T.R, despite the fact that the magazine claimed that they had split.
"Last time I checked Leah is still with her boyfriend and happy. We do not need the publicity of such a defamatory article," Jeremy wrote.
While T.R. and Leah are still together, they definitely hit a bump in their relationship recently. As The Ashley told you, T.R. was angry when he found out that Jeremy and Leah were planning to have dinner together recently to discuss their daughter. (It was likely a dinner being filmed for the upcoming season.)
Leah and T.R. have yet to respond to the In Touch story.
(Photo: MTV)