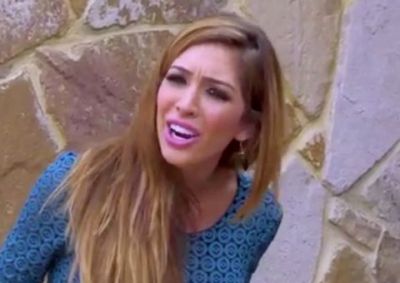 Farrah Abraham is good at a lot of things. She can always be counted on to cause drama wherever she goes, and to deliver a Grade A ugly-cry face. One thing the Teen Mom OG star is not good at? Writing website copy, as evident from the cringe-worthy "Our Story" section on the website for Farrah's store, the Sophia Laurent Children's Boutique!
While this is not the first time Farrah has committed a crime against written English language, this may be her worst offense yet. The two paragraphs on the website were obviously written by Farrah, as they use all of the same run-on sentences and self-gratifying phrases that her other website copy does— 'top female celebrity in our nation,' anyone?
While Farrah should be given credit for working hard and running several businesses, it wouldn't be a bad thing if she were to invest in hiring a writer and editor for her websites…
Here are five hilarious errors found in this treasure trove of grammatical and factual mistakes!
Farrah has trouble distinguishing the difference between a country and a continent.
While discussing all of the countries that air the reality TV shows that Sophia has appeared on, Farrah gets a bit confused. Not only does she state that Africa is a country (um?), but she also implies that there is more than one United Kingdom.
Sophia was born on MTV Network and her shows continue to be on the network in many other countries Poland, Canada, United Kingdom's, Africa and much more.
She doesn't quite understand the power of the comma and period.
In this hilarious run-on sentence (which sounds more like a song on 'Barney & Friends' than promotional copy written for a website), Farrah gets us all a bit confused about what she's actually trying to say.
Sophia Laurent believes in every child has a voice and sky is the limit for any child any age and we hope to make every child whom walks in our store feel special like a king or queen.
Farrah can't help but compliment herself.
Although this website is for the store that "belongs" to her eight-year-old daughter, Farrah can't help but toot her own horn a bit. Of course, she does so using a very strange run-on sentence.
Sophia's biggest fan her mother Farrah Abraham top female celebrity in our nation continues to grow the inventory, customer service and success of the children's boutiques plan of expansion.
Then there's…whatever this says…
Sophia Laurent is the owner of this celebrity children's boutique, at age 7 Sophia loves to shop and create for exclusives and awesome toys…
But really…who doesn't love to create for exclusives, am I right?
She keeps busy planning events (but not editing her work).
But…why can't there be periods?!
We love to update our event calendar from Santa meet & greets to runway show, talent development courses , beauty classes, special children's author book reads, to exclusive celebrity product launches in store our mission is to help children thrive and become all they can be.
(Photo: MTV)