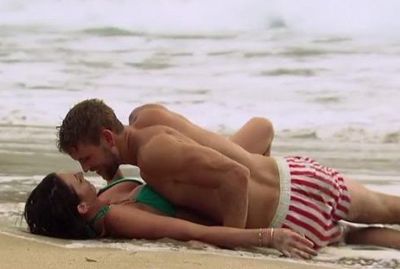 Bachelor in Paradise is coming back…but it won't be the 'Paradise'  we have come to know and love.
TMZ is reporting that new rules have gone into effect on the set of the ABC reality show.
'Bachelor in Paradise,' which was known for showing the cast drinking and fornicating along the beaches of Mexico, will be a bit watered-down for the rebooted fourth season, thanks to the 'Bachelor in Paradise' scandal from earlier this month.
As The Ashley previously reported, production of Season 4 was halted earlier this month due to a producer filing a sexual misconduct complaint regarding a sexual interaction between then-cast members DeMario Jackson and Corinne Olympios. The complaint stated that Corinne may have been too drunk to consent to the sexual activity, causing Warner Bros. to shut down production and launch an official investigation into what happened. They recently announced that their investigation found no sign of misconduct, and DeMario has been cleared of any wrong-doing.
To avoid any future problems on set, the rebooted Season 4 cast must follow a series of new rules, according to TMZ. Producers will now have the final say on whether or not a couple wanting to get busy will be allowed to!
"We're told before anyone can get it on, both parties must go to a producer and state that they consent," TMZ reports. "If the producer feels either party is incapable of giving consent, the producer can pull the plug."
If contestants sneak into the "Boom Boom Room" (think a 'Paradise' version of the Jersey Shore "Smush Room") without first checking with producers, crew members have the right to "barge in and stop things mid-coitus."
The site reports that, upon their return to Mexico, all members of the new cast sat through a two-hour orientation session with the show's staff and lawyers to make sure everyone understand the new rules. In addition to regulating sexual activity, the new rules also put a kibosh on the binge drinking viewers have come to expect from 'Paradise' cast members.
'Paradisers' are now limited to two drinks per hour, according to TMZ.
"The crew is monitoring drinking levels among the cast and the bartenders are also responsible for keeping tabs," TMZ reported earlier this week. "Producers have also made a point of providing food at all times during the shoots … presumably to absorb the alcohol."
And that's not the only mind-altering substance being regulated now. A new drug policy has also been implemented on set. TMZ obtained an email that was reportedly sent to all Season 4 cast members before they arrived to start shooting in Mexico again. The email states the new drug policy.
"Upon your arrival, your bags will be inventoried specifically for any over-the-counter and prescription drugs that are not prescribed to you," the email stated, according to TMZ. "Any prescription/illegal drugs will be confiscated… All drugs, over-the-counter and prescribed, must be submitted to the Nurse to keep and dispense accordingly for your stay in Mexico."
'Bachelor in Paradise' Season 4 was supposed to premiere on August 8, but ABC has not revealed if that is still the day the rebooted season will start airing.
(Photo: ABC)