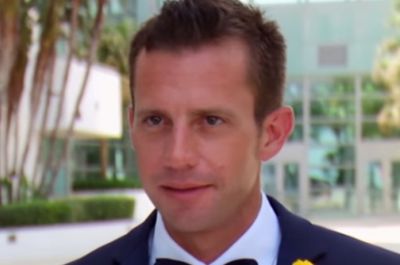 The ink on Nick Pendergrast's divorce papers has barely dried, but the Married At First Sight Season 4 star has definitely moved on from his made-for-TV wife Sonia Granados!
Nick announced on Thursday that he and his girlfriend, AfterBuzz TV host Heather Yerrid, are expecting twins early next year! 
According to People, Nick separated from Sonia in January, and the couple officially divorced in April. Since Nick and Heather are expecting their twins in February 2018, that means the babies were conceived sometime in May. The couple says that Heather is about nine weeks along.
Nick met Heather (who in addition to her job at AfterBuzz is a love and relationship coach) during his separation from Sonia. The couple communicated for three months before meeting in California in May.
Nick has since moved from his home in Florida to be with Heather.
"I met the most genuine, empathetic woman and fell madly in love with her," Nick told People. "I am most excited about Heather getting her energy back and finally being able to explore California. It will be even more fun doing it with our two new babies!"
"We are shocked, excited and feeling blessed all at the same time," Nick added.
Sonia was also shocked. She took to Twitter to reveal her feelings about her ex-husband's big news.
"Now we ALL know why AfterBuzz was always throwing shade at me #Congrats2theLoveBirds," Sonia tweeted on Thursday.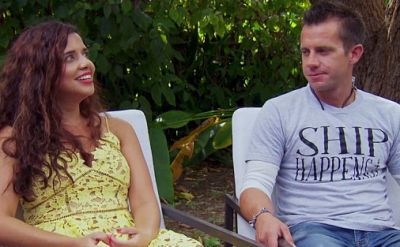 She later added, "Wish Heather n Nick well but I have a right to b irate 4 many things n tweet what I want! This is my twitter…On another note. Please don't feel bad for me. At. All. Trust me when I tell y'all!"
"Correction: irate at her misleading me and at him not being able to ever be a MAN about anything!" Sonia wrote, adding that she moved out of the home she shared with Nick on December 31, 2016.
Heather and Nick did not respond to Sonia's tweets, but Nick did respond to a fan who accused him on Twitter of cheating on Sonia with Heather.
"Say what you will to make your day more exciting. This is #inaccurate and Sonia knows that too. Babies are miracles. Focus on that," he wrote.
Sonia and Nick struggled in their made-for-TV marriage from the start, in part due to Nick's lack of attraction to his wife and their inability to communicate well with each other. At the end of 'MAFS' Season 4, Nick and Sonia decided to stay married, but obviously things fell apart after that.
In March, the couple announced that they were divorcing. All three couples from Season 4 have now split.
(Photos: FYI)