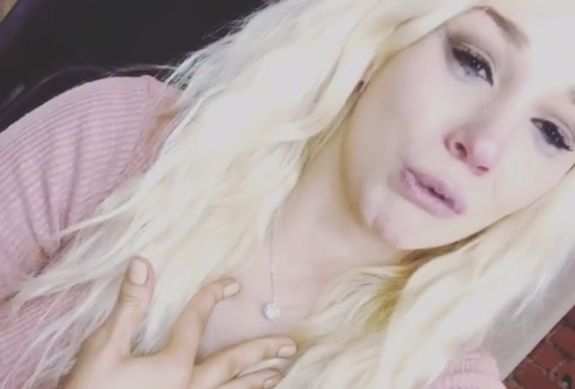 The saga of Courtney Stodden's relationship with Doug Hutchison continues!
The eccentric reality star hit social media on Friday night to plead with her soon-to-be ex-husband Doug to get back together with her, despite the fact that they legally separated last year.
"I need this man back in my life," Courtney captioned a wedding photo she posted on Instagram. "I need him to come help me. I need him to want our marriage to work. He's been my only solid rock. Doug, if you read this — this is a public cry for your undying love."
Courtney then posted a video to her accounts that showed her tearfully begging Doug to take her back. She revealed that their divorce is about to be finalized next week and she is now having second thoughts about parting ways with Doug.
"So, obviously, I've been crying — again," she said. "I just want to be honest with you guys about some things. Me and my husband have been going through a really rough time — separation, and ultimately divorce, coming up in a week. I've, at the last minute, realized that I don't want it and I want to try to make things work."
"Ever since we've been separated and he's moved away, I've been really depressed and I've realized that I don't deserve him," she added. "I love him so much and I need him back in my life. I just need him to come help me and be with me and I love him."
Courtney and Doug made headlines in 2011 when they got hitched, due to the fact that Courtney was only 16 and Doug was 51. They eventually starred on Couples Therapy to help their marriage, after a brief split in 2013. In 2015, Courtney and Doug appeared on The Mother/Daughter Experiment alongside Courtney's mother, Krista Keller, and things got downright wacky when Krista revealed that she had an "emotional affair" with Doug while he was married to Courtney.
Based on her other social media postings, Courtney's been struggling emotionally for several months. On December 30, she tweeted a message that is almost certainly about Doug.
"In the arms of that person… that one person who would never ever leave me… that's the only medicine that would cure my sadness," she wrote.
In an exclusive interview with The Ashley back in April 2017, Courtney explained why Doug means so much to her.
"I got married at 16, so Doug's been around for so long," Courtney told The Ashley. "I look at him as a figure in my life in so many regards. We're breaking up but we still want to remain in each other's life, if we can manage to do that after all the smoke clears."
At the time, she expressed her desire to stay close to Doug no matter what happens in their relationship.
"We don't want to be this nasty Hollywood couple that tears each other apart," she said. "We want to lead as an example for other celebrity couples going through a divorce. It's making things harder and right now the tension is high, but we're managing to remain loving and respectful of one another."
Doug has yet to respond publicly to Courtney's posts.
Watch Courtney's tearful plea below:
(Photos: Instagram)