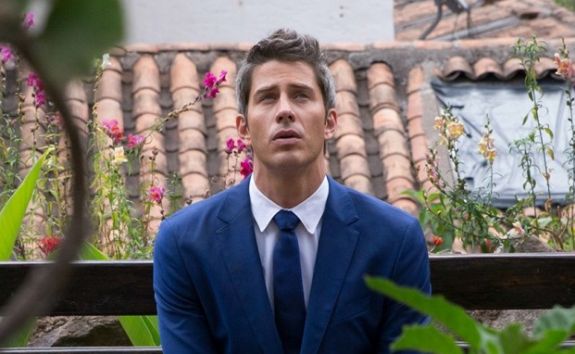 *WARNING: Spoiler alert! Do not read below if you have not watched the season finale of 'The Bachelor' yet. 
On last night's season finale of The Bachelor, a grinning Arie Luyendyk Jr. got down on one knee and proposed to Becca Kufrin, right after sending home Lauren Burnham. After Becca slipped that gigantic Neil Lane sparkler on her finger and agreed to marry this oaf, everything basically went to bloody hell.
'Bachelor' fans (along with Arie's ex-girlfriends, friends and fellow Bachelor Nation stars) watched in shock as Arie (and the show's crew) basically planned an ambush on poor Becca, who had no idea that she was about to get dumped…on national TV…so her fiance could go try to hook up with Lauren.
Naturally, Becca was shocked, and after Arie explained that he still wants to try to hump Lauren, Becca kicked him out…only to have Arie stay, sit next to her and stare at her silently for several painfully awkward minutes.
On Tuesday's "After the Final Rose" special, Becca, Lauren and Arie will update us on what's going on now. However, Arie's crew didn't wait to watch the episode on Tuesday before taking to social media to express their thoughts on what went down.
Sean Lowe, a former 'Bachelor' and the guy who actually threw Arie's name into the hat on social media in September, suggesting that he'd make a good 'Bachelor,' seemed to disagree with what his longtime pal did.
"Please don't tell me they blindside this poor girl," Sean wrote in a series of tweets. "Not only is this unfair to Becca, it makes Arie look bad. But hey, it's never been done before!….Make it stop…"
Sean's wife, Catherine Lowe— who is (was?) also close to Arie, was apparently shocked by what she watched happen.
"The show was over 30 mins ago and Catherine is still in the red zone," Sean tweeted. "She's talking so fast I'm not sure she's getting air. She's very angry. She's telling me all the things she would have done to me if she were Becca. I'm scared."
Arie's ex-girlfriend Sydney Stempfley (who reportedly dated Arie until a few weeks before filming for 'The Bachelor' began), tweeted back in September that Arie wouldn't be able to pick a wife in the end, writing, "The show would be perfect for @ariejr up until it comes to choosing just one [girl]."
On Monday, she commented on her scary-accurate prediction.
"I hate to say I told you so butttt…., she tweeted.
Jef Holm was also critical of Arie when he was announced as 'Bachelor.' The former best friends, who were the winner and runner-up, respectively, on Emily Maynard's season of The Bachelorette, stopped speaking several years ago, and Jef was not shy when it came to expressing his feelings about Arie's alleged womanizing ways.
Jef retweeted his tweet from January that questioned Arie's ability to find and maintain a relationship.
"Doesn't matter who gets out of the limo…I'll give 5k to the charity of @chrisbharrison's choice if @ariejr lasts 1 year with anyone," Jeff originally tweeted. On Monday he added, "Was I right or was I right?"
Kendall Long, who finished third on Arie's season (and therefore avoided being caught in Arie's Awkward Triangle of Proposed Love), offered her thoughts on the situation.
"Your heart can't control how it feels or when it feels but your mind can control what you do with how you feel and how you make others feel…ya feel?"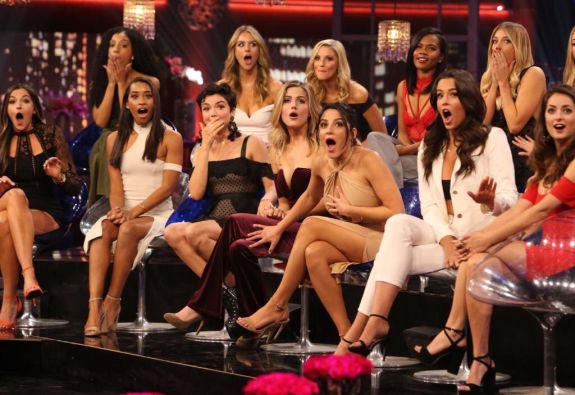 Becca herself spoke to People magazine about what happened that day.
"I don't think he thought through everything of how ending things with Lauren would be, how being engaged to me would be and what breaking up with me and going back to her would be," Becca said of Arie. "I don't think he thought it through, but I don't think he did it maliciously to break my heart."
She gave more insight on what happened on the day Arie dumped her, in a house in Los Angeles with a full team of producers and cameramen, all ready to ambush her.
"I thought we were just going to have a nice romantic weekend. The night before he had turned off his phone, which I thought was strange, and it wasn't until the moment when he walked into the house when he didn't have his suitcases with him, I was like 'What's going on?'" she told the magazine. 
Becca criticized Arie for the selfish and thoughtless way he broke up with her.
"It was embarrassing the way he broke up with me with the full cameras and crew around," Becca said. "There was a better and more tactful way to do it. A breakup is hard enough, and to have it all filmed and have to re-watch it and know that people all across the country are watching you get your heart broken, it is embarrassing. It's not fun.
"I wouldn't wish it on my worst enemy. It was like a slap in the face."
(Photos: ABC)