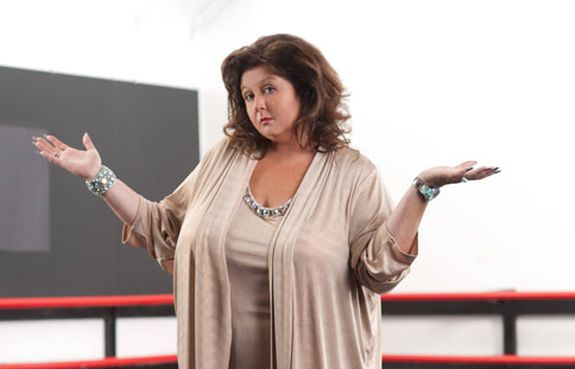 Abby Lee Miller is fresh outta prison, and currently battling cancer, but she's determined to make it back on reality TV!
The notoriously mean dance coach is reportedly returning to Dance Moms after quitting the show last year because she felt disrespected by the show's producers. On Friday, the reality TV star seemed to confirm the rumors by posting a photo of herself with a cameraman, along with the caption, "Back to work…Lights, Camera, Action!"
(She used the #dancemoms hashtag as a way to let her fans know what it is that she's filming.)
According to Entertainment Tonight, Abby is returning for Season 8 of the hit Lifetime reality show. A recent post on the show's casting website stated that Abby is looking for "fresh new talent" ages 7-12 to "train and compete in her Abby Lee Dance Company and star on the show."
A rep for the network confirmed to People magazine on Thursday that Abby will, indeed, play at least some part in Season 8.
"While determinations on an eighth season has yet to be made, production is casting and Miller is involved in the process," the network rep told the magazine.
The fact that there is even going to be an eighth season of 'Dance Moms' is surprising, given that in September 2017, Lifetime confirmed that the show had been cancelled. However, after the story circulated, the network backtracked on its statement that the Season 7 finale would be the show's final episode.
When Abby quit 'Dance Moms' last year, she said she enjoyed working with her dancers (even though she made them cry every show), but it was the producers that made her miserable.
"I don't have a problem working with any kid, I love children and have dedicated my life to making other people's children successful," Abby said at the time. "I just have a problem with being manipulated, disrespected, and used- day in and day out by men who never took a dance lesson in their lives and treat women like dirt!"
The show's casting page confirms her return.
"Abby Lee Miller is currently holding auditions for her new ALDC elite competition team," the site says. "Are you ready to showcase your kid's talent on national TV?"
The casting page says it's seeking "serious competitive dancers and their moms" because after all, you can't have 'Dance Moms' without the overly involved moms! The site says applicants must be available for final callbacks in September, at which time they will come face-to-face with Abby.
Although she was known for her no-nonsense and often brash personality (as well as her brutal treatment of her dancers), it's possible that 'Dance Moms' fans may see a new Abby Lee. She alluded to this in a deleted Instagram post in January.
"I am feeling great and ready to turn over a new leaf," she wrote.
While her professional life may be going well, Abby is still facing some very serious medical issues. She is currently undergoing chemotherapy and has already undergone multiple spinal surgeries over the past few months. (She is reportedly battling a form of Non-Hodgkin's lymphoma.)
Abby has been chronicling her cancer battle on her Instagram account.
RELATED STORY: Former 'Dance Moms' Star Abby Lee Miller Receives $10,000 Donation For Cancer Fight, Thanks to JoJo Siwa
(Photos: Lifetime, Instagram)