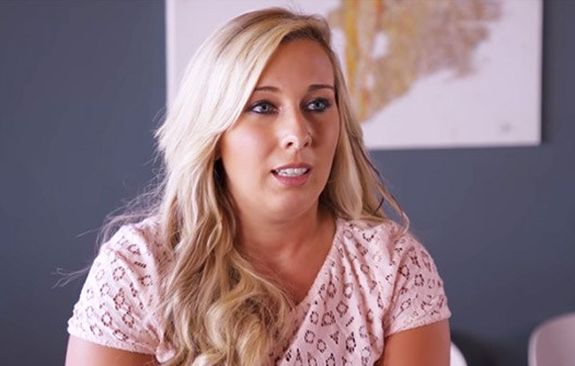 Mackenzie Edwards has reappeared on social media, five days after her husband, Teen Mom OG star Ryan Edwards was arrested.
Although Ryan is currently still sitting behind bars, Mackenzie posted a photo to Instagram on Saturday, along with a message to the "bullies" who are criticizing her and her husband.
"She has a kind soul, but a cold [heart]," Mackenzie captioned a photo of herself that showed off her pregnant belly. "Edit: This isn't a new revelation, I've always been the ice queen."
Naturally, the photo and caption garnered a lot of comments–both supportive and negative–as this marked the first time Mackenzie has spoken out since Ryan landed in the clink.
"I am so sorry you are going through all this, especially, while being pregnant," one person wrote.
"Ryan may be ill. But she is just dumb," another person wrote about Mackenzie. "She is having a baby with him knowing damn well he is a junkie refusing to get help."
Mackenzie's friend, Christian George, whom Mackenzie allowed to take over her Instagram account for a short time, attempted to defend Mackenzie in the comment section as well.
"Mack is one of the most selfless people I know," she wrote. "She sees the best in people and is SO freaking loyal it's blinding. You don't know her, and you don't want to. This isn't her fault, it's her husbands who she loves. "
While Mackenzie didn't discuss Ryan's arrest, she did address the nay-sayers in a comment to her Instagram page.
"These little phone bullies who have nothing better to do than comment ignorance on a picture can kiss my ass," Mackenzie wrote. "Instead of drilling me with facts you think you know about myself and my husband, please go volunteer your services at your local clinic/hospital/medical school research team. I'm sure they'd be happy to have you and the breadth of your knowledge."
As The Ashley previously reported, Ryan could be facing over two years in jail following this latest arrest, according to Nashville criminal attorney Ben Raybin. Radar Online reported that Ryan's arrest this week was due to him breaking his probation by missing a court date on May 21. A warrant was issued for his arrest the next day, and he was picked up by Red Bank, Tennessee police on July 23.
A spokesperson for the Hamilton County jail (where Ryan is currently being held) told The Ashley that Ryan will remain behind bars at least until August 6, which is when his court date has been set for.
Mackenzie has stated that she has about 10 weeks left in her pregnancy. Should Ryan get sentenced to jail time, there's a chance that he could miss the birth of his second child. (Ryan's father, Larry Edwards, previously revealed that Ryan and Mackenzie are expecting a baby boy.)
(Photos: MTV, Instagram)