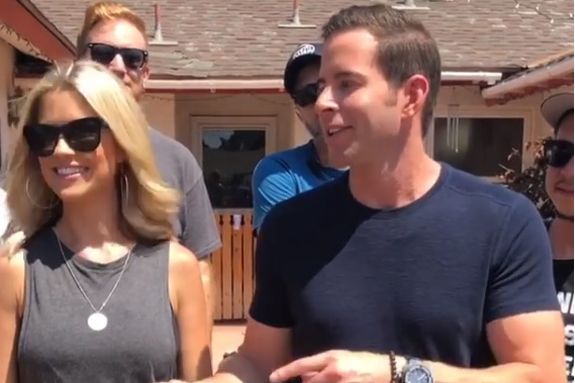 Christina and Tarek El Moussa's marriage is long over, but their reality show just keeps going!
HGTV recently announced that it has renewed the couple's popular home renovation show, Flip or Flop, for another season. According to the network, some of the 15 new episodes are already in production, and are slated to begin airing in the Spring of 2019.
Despite their divorce (and the drama that has come from it), Tarek and Christina seem excited to continue to work together on the hit show.
"I know this is Season 8 and I know we've been around for a really long time but we are back," Tarek said in a video posted to Instagram. "We're ready to flip some houses!"
Christina and the rest of the 'Flip or Flop' cast are shown in the video cheering over the new episodes.
According to an HGTV press release, the show was renewed mid-season due to its high ratings. The network states that the current season's viewership is up 18 percent over its prior season.
"To date, the seventh season, which finales on Thursday, September 6… has attracted more than 15.2 million viewers," the press release states.
'Flip or Flop' fans worried that Christina and Tarek would no longer continue working together on the show after their 2017 divorce, but the former couple has been able to put their differences aside for the good of their show. (It's amazing what those gigantic HGTV paychecks can do!)
"HGTV fans have followed Tarek and Christina through scores of house flips and supported their personal journey for years," said HGTV President Allison Page said in a statement. "We're eager to see how they continue to run their flipping business, co-parent their children and start new chapters in their professional and personal lives."
While Tarek and Christina are excited to be working on new episodes, not all 'Flip or Flop' fans were happy that the divorced couple will continue to star on the show together.
"They spend more time arguing than designing," one person wrote in the comment section of an HGTV Instagram post announcing the new season. "They need to give it up…"
"So over them and their drama…. please put a show that is actually helpful!" another person wrote in a comment.
Even long-time fans of the show seem to dislike the divorce drama that's being highlighted on the current season of 'Flip or Flop.'
"I enjoyed the show for a few years but now the show is a Flop," one person wrote on HGTV's Instagram post. "Who wants to watch two drama queens throw insults at each other?"
Christina will be extra-busy in the coming months. In addition to filming the new 'Flip or Flop' episodes, she is also preparing to star in her own reality TV show, Christina on the Coast. HGTV announced in June that Christina's spin-off will focus on her life, post-divorce, as well as her designing career. That show is set to premiere in early 2019.
HGTV is reportedly also working on a solo spin-off project for Tarek, but no information about that has been released yet.
The seventh season of 'Flip or Flop' is currently airing on HGTV.
(Photos: Instagram)