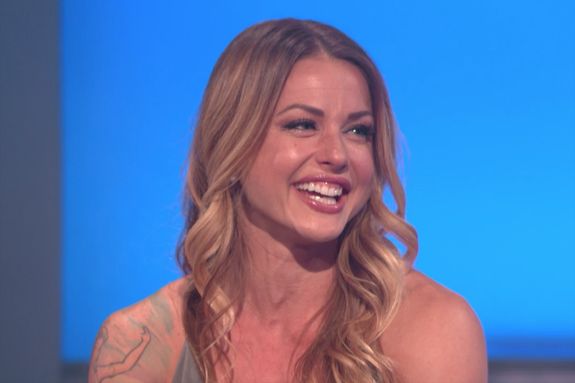 When your mom's name is Christmas Joye, there's a good chance you're going to end up with an "interesting" name as well.
Big Brother 19 star Christmas Abbott welcomed her first child on Monday and, while she did not give the baby boy a holiday-themed name, she certainly came up with a unique moniker for the kid.
Entertainment Tonight reports that Christmas– who finished in third place on 'BB19' last summer– named her son Loyal Atticus Abbott. The baby boy weighed in at 8 lbs., 15 oz. and measured 22.5 inches long.
Baby Loyal's father is Christmas partner, Benjamin Bunn.
In an interview with ET, Christmas revealed why she chose the name Loyal Atticus for her son.
"My family has a history of strong and unique names so I wanted to follow suit," she said. "I chose his first name Loyal because I believe it will guide him to have strong integrity through his life. It's a reminder that family comes first, which is why it is his first name."
"I chose his second name Atticus from the Greek educator and philosopher to embrace balance and fairness through understanding," Christmas said of the boy's middle name. "Neither is a family name but I hope he will embrace his name as his own and follow the greatness he can bring to this world through love, understanding, and fair action."
She stated that the pregnancy was unexpected when she announced it earlier this year.
"Well, I've always expected the unexpected in my life and this year is no different! In January I discovered I am actually EXPECTING and a whole new life would be laid out before me," Christmas wrote on Instagram. "After a challenging 2017 year, it is turning out that 2018 is the best year of my life to date. I have my health, family, friends, passion, and a new addition to my tribe."
Loyal may soon have a 'BB19' playmate, as Jessica Graf and Cody Nickson— who starred on 'Big Brother 19' with Christmas– are now engaged and expecting a baby together next year.
(Photos: CBS, Instagram)