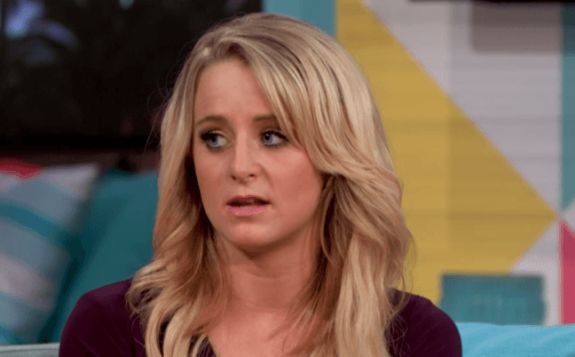 Leah Messer is finally coming clean about the time in her life where she struggled with a prescription pill addiction.
For years, the Teen Mom 2 star has denied that she had a drug problem during the period of time following her daughter Addie's birth in February 2013. The topic was covered extensively on the show, with Leah always denying that she had dependency issues. However, on the latest episode of her Life Reboot podcast, Leah finally admitted that she was, indeed, battling an addiction to pills during that time in her life.
"I do know how it feels to become dependent on anything given by a doctor," Leah said.
She later talked about how her drug dependency turned her life upside down.
"Not only was I losing my kids but I was basically losing my life, my husband, everything," Leah said about her life in 2014 and 2015. "Everything was crashing down on me."
For the first time, Leah told the full story about how she became dependent on pain pills, and the time she spent at a treatment center in May 2015.
According to Leah and her ex-husband, Jeremy Calvert— who took part in the podcast episode– Leah's drug problem started when she went to the hospital to give birth to Addie.
"I just went in to deliver Addie and they injected me like 13 times [during the epidural]," Leah said. "In the hospital I couldn't get up and they just put me on morphine pump. I kept telling Jeremy, 'Something's not right.'
"I spent three days in the hospital and they weren't figuring out what the problem was. They were just keeping me on medicine. It goes into four days and I kept saying something was not right… I leave the hospital and it still doesn't get better at home. They put me on different drugs to go home on for three months, three different drugs."
Leah stated that she was very naive when it came to drugs, and that she was actually against taking any painkillers, since she watched her biological father battle addiction.
"I was very oblivious to any drug," she said. "I was actually anti[-drug] because my dad was a drug addict so I wouldn't take anything."
Soon, though, Leah and Jeremy said that Leah's pain got so bad that Leah needed the medication to get through her day.
"When she got out [of the hospital] she was in constant pain… headaches, lower back pain," Jeremy said.
"[The pain] would shoot up my spine and the morphine wasn't doing anything," she said. "My dad was a drug addict so I was like, 'I don't ever want to be a part of that. I don't want that to be in my life.' But by then I was already dependent on the medication."
'Teen Mom 2' watched in one memorable scene when Leah dozed off while talking on the phone to her daughter's nurse, as well as when Leah fell asleep holding her baby niece. Leah explained what was going on during that time.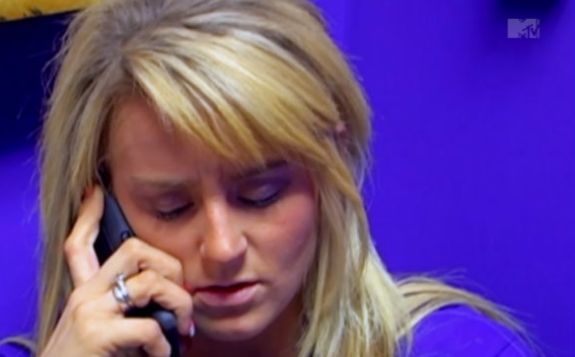 "I'd go to my doctor because I thought that maybe there was something else wrong with me and they put me on Diazepam [the generic version of Valium], and it had me nodding off," she said.
Leah continued to take pain medication which, according to Jeremy, she was able to get thanks to her biological father, who was living in their basement at the time.
(The Ashley has stated in the past that Leah's father contributed to her addiction, but this is the first time that Leah herself actually admitted it.)
On the show, Leah continued to deny that she had a drug problem, even during a face-to-face meeting with her ex-husband Corey Simms, who was trying to take custody of their twins from Leah. However, she now admits that there was something very wrong, although she didn't want it playing out on the show.
"What she was worried about the entire time was what everyone was gonna think," Jeremy said.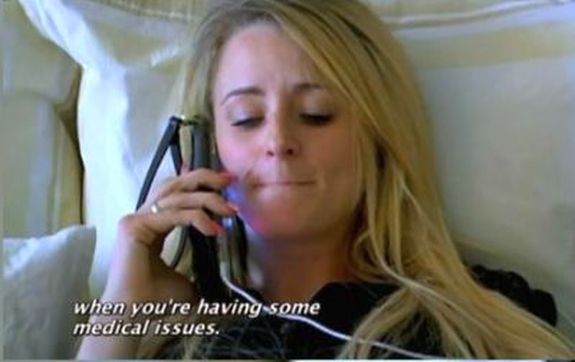 The drug dependency started to affect every part of Leah's life, she said.
"Jeremy and I started having issues. Then, after Jeremy and I started having issues, then Corey stepped in," Leah said. "[MTV] would make it look— I'll just go ahead and say, even though I'm under contract—- they did make it look sometimes worse than it was, and they played it on longer than it actually was."
"You also had MTV putting their f**king two cents on it, when they had no business with it," Jeremy added. "Our marriage and some of the things they wanted to have a hold on wasn't anyone's business besides ours….You also had MTV's point of view in your ear, constantly. MTV had a lot to do with a lot of things."
As The Ashley reported back in 2015, the show's higher-ups basically forced Leah into going to rehab, using portions of her show contract (particularly those dealing with payment) as a way of getting her to go. She was originally supposed to go to a treatment center in early May 2015, and even made it as far as the airport to go, but refused to get on the plane.
(They eventually rewrote the story to make it look like Leah went, but then came back because she was worried about Corey taking custody of the twins while she was gone. This was not actually what happened in real life.)
Eventually, Leah and the producers agreed to state on the show that Leah was going to the treatment center to get help for her depression and anxiety.
In 2016, Leah refused to admit during an appearance on The Steve Harvey Show that she went to the rehab to get help for her drug dependency. She did admit, though, that most of the people in her life were not happy about her going to rehab.
"Jeremy was on board, he was telling me to go to treatment," Leah said. "We were divorcing but he was still like, 'You need to go.'"
Once Leah arrived at the Sierra Tucson rehab center in Arizona, Leah said she met with an addiction specialist, even though she wasn't technically on the center's addiction track.
"They had me on the trauma track. You don't go to treatment just for addiction. You can go to treatment for addiction, trauma, for pain," she said.
Leah said that, once she was at the treatment center, she thrived and finally got to live the normal life of a person in their early twenties, which was something she had never done before, due to her teen pregnancy.
"You want to know what I learned most from going to treatment? I had never had a time to not only get better, but I had a month to get into who I was…a sneak peek of who I was. I had kids at 17. I never had any time for Leah," she said.
"You never got to experience fun stuff that normal teenagers get to experience," Jeremy added.
"When I was in treatment… I honestly felt like it was a month in college," Leah added. "Most people have that four years of college, but I had that month. It was an eye-opener and a spiritual awakening."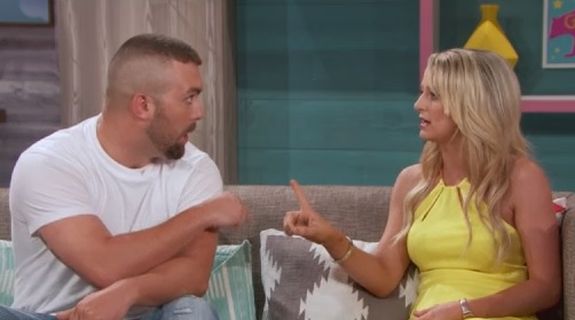 Leah said she had hit "rock bottom" before going to treatment and, in a past podcast episode, admitted that she had been suicidal during that time.
"I don't feel ashamed," she said. "I felt that people seen it [play out on the show] different than what it actually was. It wasn't like I chose that, but even if I did, that doesn't matter.
"I'm in a much better place than I was," she added.
To listen to the entire episode of Life Reboot podcast, click here!
RELATED STORY: 'Teen Mom 2' Star Leah Messer Admits Reconnecting with Her Biological Father Was "Very Unhealthy" 
(Photos: MTV, Instagram)