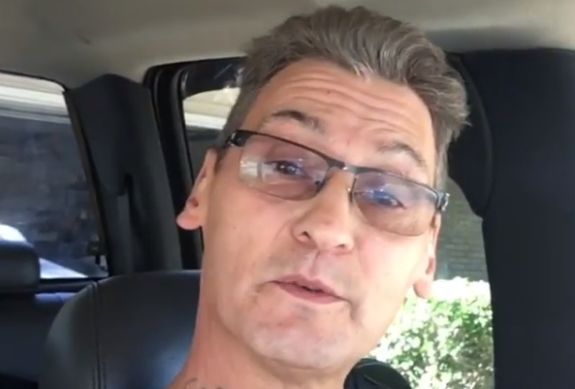 Teen Mom OG star Butch Baltierra has reached a big milestone in his transformation– even bigger than the day he cut off his trademark, trusty mullet!
Earlier this week, Butch announced that he was celebrating the one-year anniversary of his getting sober. 'Teen Mom' fans have long watched as Butch struggled with a drug addiction that kept him in and out of prison for most of his son Tyler Baltierra's life– and his time on 'Teen Mom.'
After seeing Butch relapse last season, Tyler arranged for his dad to attend an inpatient rehab program in Austin, Texas, which Butch has since graduated from. He has remained in Texas and is currently in Narcotics Anonymous.
In a video posted to his Instagram account, Butch revealed that he still struggles to stay clean.
"I had 365 days clean yesterday," Butch said in the video. "Just wanted to tell you: it's not all that easy and it ain't all that hard. Am I struggling? Yeah. I struggle every day. I struggle every day that I don't work a program, or don't keep in communication with my sponsor or follow directions, I struggle."
Butch's sobriety has garnered him several perks: he's currently in a relationship, and was even allowed to fly to New York City this weekend to take part in the 'Teen Mom OG' Reunion special taping, something that he has not been legally allowed to do in years!
In his Instagram video, Butch encouraged his followers who are struggling with addiction to seek help.
"Do I have obsessions? Yes I do. I think about smoking marijuana, I think about drinking every now and then. I'm not a big drinker, but I've been thinking about it," he said. "It's not all that easy but I know it's easy when you work a program, do H & I's, and go to meetings. That's all I wanted to say!"
Amber Baltierra— who is the daughter of Butch and sister of Tyler– is also maintaining her sobriety after going to rehab back in May. Last week, she celebrated six months of sobriety by posting her six-month Narcotics Anonymous chip to Instagram.
At one point this year, Tyler had his father, sister and wife Catelynn Lowell all in a treatment facility at the same time. He has admitted that taking care of his family's health issues has been draining on him. Still, his relationship with Butch seems to have improved over the last few months.
(Photos: Instagram)