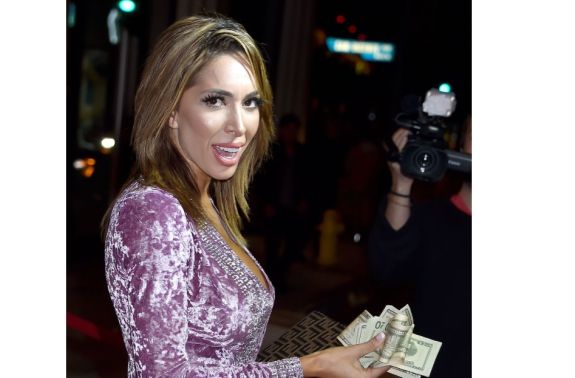 Damon Feldman has made good on his threat to sue Farrah Abraham over the boxing match she backed out of last month.
The Celebrity Boxing promoter has reportedly filed a lawsuit against the former Teen Mom OG star, and, according to TMZ is seeking damages of $12,000. (This is, of course, an amount far less than the "millions of dollars" Damon had originally threatened to sue Farrah for.)
The Ashley reached out to Damon for comment on the lawsuit, and he was more than happy to explain why he is suing Farrah. 
"I have to destroy her," Damon told The Ashley. "She stole my money and sponsors and falsely said she was fighting and took people's money."
As The Ashley previously reported, Farrah backed out of the much-promoted Atlantic City boxing match against Nicole "Hoopz" Alexander, stating that Damon and the fight's promoters failed to fulfill the terms of their contract. According to Damon, Farrah quit the fight because Damon wouldn't allow the match to be fixed in Farrah's favor, as Damon claims Farrah demanded. (Both sides have denied the other's claims.)
In a recent interview with CeleBuzz, Damon explained what else Farrah was allegedly demanding.
"We paid her in advance, got her money, met her in Florida, and she pulled out," he said.  "Everything was good to start-— I signed her up with training, we set up a press conference, then she started making these ridiculous demands.
"We signed an agreement, then she sent a second contract saying that she had to win the match," Damon added. "The week of [the fight], she asked for 36 hotel rooms, six first-class flight tickets, just abnormal stuff."
Last month, Damon offered to forgo suing Farrah— if she would agree to box Teen Mom 2 star Kail Lowry. Farrah's father Michael Abraham told The Ashley that this match– or any match that included Farrah fighting for Damon's company– would never happen.
"Farrah's not going to fight anybody, period, anymore," Michael told The Ashley earlier this month. "[Damon] had an opportunity he messed up, he lied."
Damon told The Ashley that the promotion Farrah received from the boxing match helped revive her career.
"She was done," Damon said. "I gave her her 16th minute [of fame]. She thinks it's a joke. It's only the start. She is a zero."
It does not appear that Farrah is worried about the lawsuit. Her manager, David Weintraub, released a statement to TMZ after Damon filed his lawsuit.
"We are truly wishing Damon the best with his frivolous lawsuit," David stated. "Everyone must realize this guy broke his own contract with us and runs this 'so called' business out of his studio apartment and doing 'basement style event fights' that no one watches.
"He should work a little harder to pay for travel/accommodations for the talent and team and then perhaps the talent will actually come. Get ready for the counter suit from Farrah."
The Ashley has reached out to Farrah and her team for comment on this story.
RELATED STORY: Farrah Abraham's Father Michael Denies Farrah Demanded Boxing Match Be Fixed; Says Farrah Will Never Fight Kail Lowry
(Photos: Gregg DeGuire/Getty Images, Instagram)