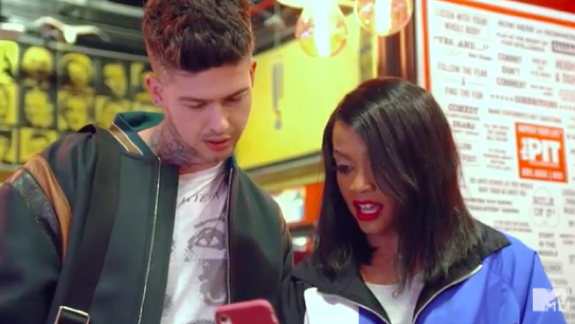 MTV is giving "ghost busting" a new meaning with its new mystery-solving series premiering in September. While the show's premiere is still a month a way, 'Ghosted' is already stirring up major controversy due to its premise!
Hosted by The Bachelorette star Rachel Lindsay and recording artist Travis Mills, E! Online reports that Ghosted: Love Gone Missing will follow the same premise as MTV's Catfish where people contact the show's host for help getting more information on someone. However, the new series will set out to find those who have suddenly disappeared from their relationships.
According to MTV, Rachel and Travis will "help distraught individuals track down and confront a former lover, friend or family member in an effort to uncover the harsh realities of why they 'ghosted' them." Each of the eight episodes of the docuseries will feature two individuals—the ghost and the ghosted.
Rachel announced the new MTV series on Instagram, calling this the "best week ever."
If the series finds as much success as 'Catfish,' Rachel (and anyone else involved with the show—namely MTV), will have plenty more "best weeks" ahead. 'Catfish' premiered in 2012 and has continued to be a mainstay on the network, with its Season 8 finale airing this week.
However, the premise of the new series has drawn some criticism on social media, with some even calling the show a form of stalking.
"Could you imagine someone leaving behind a toxic relationship/friendship, healing, and then an MTV camera crew shows up in your face with that person. That would be super traumatizing for a lot of people," one person tweeted.
"If you're the kind of person who tracks down someone that ghosted you, you're the reason people feel the need to ghost to protect themselves in the first place," another commented.
'Ghosted: Love Gone Missing' premieres with back-to-back episodes on Tuesday, Sept. 10 on MTV.
Check out the first look below!
(Photos: MTV; Instagram)