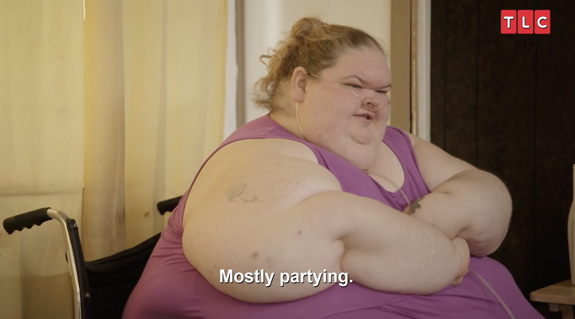 Tammy Slaton of TLC's 1000-Lb Sisters has checked into a rehab facility for weight loss after allegedly displaying "reckless" behavior and admitting to drinking excessively and smoking to cope with her mental health issues.
According to The Sun, Tammy–- who appears on the show with her sister Amy–- checked into the Ohio treatment facility prior to the holidays and plans to remain there until this summer.
"She is in a facility and she's getting help," a person close to the TLC reality star told The Sun.
"She is doing it on her own," the source told the outlet. "The show is not paying for it, she's paying for it. She's doing it on her own and she's choosing to be close to eight hours away from her family.
"I know that she wants to be out this summer," the source continued. "She has a goal for herself. Because again, she's paying for this. She has a goal for herself to get out this summer."
Tammy now has a tracheostomy due to being put on life support back in November after suffering from pneumonia, sepsis and carbon dioxide poisoning.
(The carbon dioxide poisoning was a result of Obesity Hypoventilation Syndrome. According to the National Heart, Lung & Blood Institute's website, OHS "is a breathing disorder that affects some people who have been diagnosed with obesity. The syndrome causes you to have too much carbon dioxide and too little oxygen in your blood.")
Although Tammy recovered, she still has the tracheostomy in. It is present in all of her Instagram photos posted since late November.
View this post on Instagram
As fans of the show may recall, Tammy's sister Amy lost enough weight to qualify for weight loss surgery during Season 1, while Tammy did not. After undergoing bariatric surgery, Amy went on to deliver a child. She and husband Mike Halterman welcomed son Gage in December 2020, and this month, the couple announced they were expecting their second child.
During Season 2 of '1000-Lb Sisters', Tammy entered a rehab facility to assist her in her weight loss journey, ultimately losing 60 pounds with just 40 more to go before qualifying for surgery. Unfortunately, Tammy went on to leave the facility early, and though she vowed to continue dieting and exercising on her own, she gained the weight back after returning home.
While Amy and her husband moved out of the duplex they once shared with Tammy and into a home of their own to raise their child, Tammy's lifestyle continues to concern those close to her, given her 639-pound weight and partying lifestyle. The 35-year-old's drinking and smoking even caused Tammy's other siblings to speak out in the latest episode of the TLC show.
View this post on Instagram
"She has enough health problems without adding more to the fire," Tammy's brother Chris Combs said on the episode. "Do we just let her live and be comfortable, and plan, for her not being here in five years, and take care of all the arrangements?"
"It sucks to have to sit and have a conversation like that about final arrangements when she has the opportunity to change," their sister Amanda added.
Chris even admitted the family was "at the end of our rope" regarding Tammy's health issues, and said he planned to address the situation with his doctor in order to get some professional advice on how best to help his sister.
In People's exclusive clip from next week's season finale, Tammy is seen getting some professional advice from her own doctor, bariatric surgeon Dr. Eric Smith, who stops by for a check-in, during which Tammy reveals she's been "battling mental health" and depression "big time."
After telling her doctor she needs to "just take a break and not think about diets, relationships," or anything other than clearing her mind, Tammy admits she's been drinking and smoking to help her cope with her struggles. When asked how much she's been drinking, Tammy cops to downing "maybe eight bottles a week"– as in eight "fifths of liquor."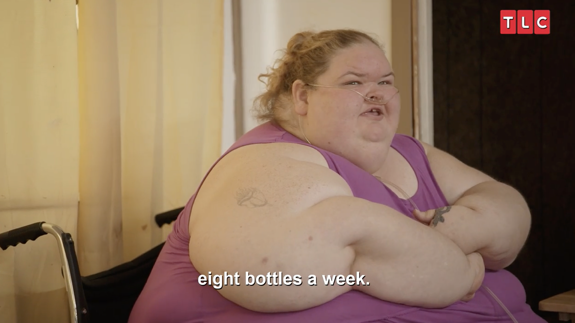 "Tammy's doing a lot of partying, which raises a concern for me," Tammy's doctor says. "That alone is putting her in severe danger."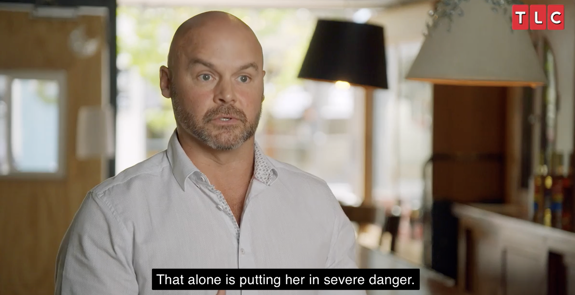 Dr. Smith also says that while Tammy needs to address her mental health issues, she hasn't done anything to improve the situation and he suspects she's "actually just using that as an excuse to buy her more time to not work on her activity level, making some changes in her diet, or anything further than that."
The season finale of '1000-Lb Sisters airs Monday, January 31 on TLC. Watch a preview of the finale below!
View this post on Instagram
RELATED STORY: TLC Debuting New Weight-Loss Series '1000-lb Best Friends' in February
(Photos: TLC; Instagram)