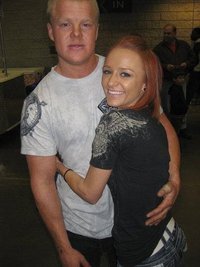 Get it girl!
We all watched and frequently sighed as Maci of 16 & Pregnant and Teen Mom put up with her creep-a-leap boyfriend Ryan's bullcrap. Even though he was obviously not interested in being a father to baby Bentley, he still proposed to Maci and moved in with her, all awhile looking like it absolutely pained him to be near her and the baby.
Though his complete disinterest in having a fiancé and baby made me mad at the time, compared to Season 2's crop of baby-daddies, Ryan wasn't all that bad.
Maci reminded me of "that girl" in high school. You know, the one that you weren't really that close to but maybe  had gym class with. She was that girl that constantly talked about her stupid ass-wipe boyfriend and would turn the conversation around so it was about her relationship, even if you were talking about how you had just attended your grandma's funeral…("Ryan once went to a funeral, you know.")
Anyway, she finally came to her senses and listened to her friends and ditched the loser.
According to US Weekly, she now has a new boyfriend named Kyle King. (Here's a link to his formspring: http://www.formspring.me/motocrossis4me.)
However, Maci said that her new man is wonderful for her and Bentley, (who, by the way, is so cute that he got even me saying "Awww," and I think most babies look like creepy scrunched up old men).
As for her relationship with 'ol Ryan, Maci said she has kicked him to the curb for good, telling US, "He has visitation so he gets [Bentley] every other weekend. As far as his relationship with me, there is none at all."
I bet Maci and her new boyfriend just sit there and watch her episodes from Teen Mom and laugh at what a douche Ryan is. Then they go cash his child support checks.