Yay! We finally have some wedding pics to oogle at!
In case you didn't hear, Crystal Bowersox got married last weekend. American Idol fans have been following Crystal's love life since January of last year, back when she was with Tony (a.k.a. Mr. American Flag Pants). Then, in May, Tony and Crystal split the night before the 'Idol' finale. (Um, it couldn't have waited until the next week?)
Last month, we got word that Crystal was engaged. No, she didn't suddenly get the urge for some patriotic pants lovin'…Tony was still out and a new guy, old friend from Chicago Brian Walker, was in.
Well, anyway, wasting no time, the couple got married Sunday at an affair drenched in good hippie vibes. The favors? Birkenstock sandals. No, just kidding, but that's actually not all that far off.
I think their wedding sounded cute, and true to Crystal's form. That chick does everything her own way and that's what I love about her!
Here's what we know:
Crystal's dress was made of hemp (no, seriously, it was) with a handmade macramé and bead sunflower design on the front. The train of the dress is a handmade design of hemp twine, sea shells, and beads. (What? Your wedding dress didn't have sea shells on it? Lame…) The cake was from a Chicago vegan bakery.
Crystal's new hubby designed their wedding rings, with Crystal's ring containing a 1.1 carat ruby instead of a diamond, as they're opposed to the whole 'blood diamond' sort of thing. The rings also have a personal design that's special for the new family.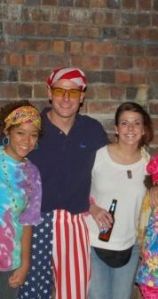 Crystal's son, Tony, (not to be confused with Mr. Flag Pants Tony) served as the ring bearer.
"I can't believe how incredibly lucky we are to have found so much laughter, love, and light within each other. We're one happy WalkerSox family," Crystal told People.
As further proof that Crystal is a class act, she requested that in lieu of gifts, her wedding guests and fans make a donation to the juvenile diabetes foundation, stating that "We are very lucky and have all that we could possibly need."
Congrats guys!
(Top Photo: People/Bob Berg/ Bottom Photo: Facebook)