All season long reality TV spoiler guy Reality Steve has been telling everyone that Chantel is the gal that ends up capturing Womack's heart on The Bachelor this season. In fact, he stated that he was so sure that it would be Chantel featured in the cheesy musical montage at the end of the final rose ceremony that it almost made the season not very exciting to watch.
Well…..Reality Steve came back with <shocking> news this morning: he was wrong about Chantel. Now he's claiming that Chantel is actually going to go 'home brokenhearted' in the limo, and it's actually Emily who's going to be wearing the Brad Womack circle of love on her finger on finale night!!!
What does this mean for us? Frankly, The Ashleyis happy about this. It's no fun knowing who's going to "win" (if  you would call being engaged to Brad "winning.") We know it will come down to Emily and Chantel, but you didn't really need to read a spoiler website to know that. It was obvious from the beginning that none of those other girls even had a chance of going home with the final rose. (I mean, come on, did you really think he was going to end up with Britt? He barely talked to anyone but Chantel, Emily, Michelle, Ashley and Shawntel the entire season!)
Now that there's two possible scenarios floating around on what happens on the Bachelor, we will have the opportunity to be surprised. For all we know, crazy Michelle will win by default, surprising everyone and hacking the remaining three contestants up with a hatchet during Brad's hometown visit. You never know….
 Emily is clearly the best girl on the lot. She's so sweet, gentle and stunningly pretty. The Ashley has been on Team Emily all season. However, part of me doesn't want her to win: she's way too good for Weiner Womack. That guy will bore her to death within a month!
(POSSIBLE) SPOILER ALERT! DON'T READ BELOW IF YOU DON'T WANT TO KNOW WHAT'S GOING TO HAPPEN: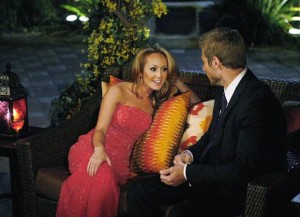 If you believe Reality Steve (and it looks like maybe you shouldn't…) Ashley H. will be the next Bachelorette.  Her over-the-top perkiness will be thrust upon us next season. I may have to kill myself. She seems like a nice girl, but how can one person be that bubbly? (Perhaps she's just happy she didn't get stuck marrying Womack….)
Anyway, I guess we'll have to wait and see. It just goes to show, kiddies, don't believe everything you read on the internet….unless you read it on The Roundup, of course!!!