It's confirmed. We're officially in The Twilight Zone.
Two of the most memorable 'contestants' from The Bachelor and The Bachelorette are officially dating.
He's one of the strangest folks ever to appear on The Bachelorette (and that's saying something!) She's one of the most hated girls ever to vie for the heart of a Bachelor. Together they're Vasey…or Kianna.
That's right: Crazy Ass Kasey Kahl and Vienna Girardi (Jake's arch nemesis) are a couple!
 Kasey, who we last saw being left alone on a Icelandic glacier during Ali's season, is now "guarding and protecting" Vienna's heart all over town. After playing coy on the Twitter for the last month or so, they've finally confirmed that they're together.
When Vienna was asked by a 'fan' (does she have those?) is she would be the next Bachelorette, she replied:
I'm sorry but my <3 is being guarded and protected. I wish the next 'ette the best of luck finding love though.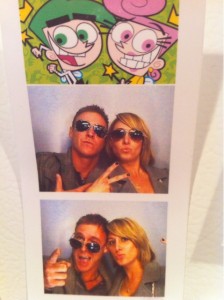 LOL. Surely the lure of Kasey's heart protection service, as well as his beautiful singing voice  was too much for Vienna to resist. 
Although The Ashley jokes, she's actually happy that these two have found love in each other. Please, God, give them their own reality show.
We may not have to wait long to see this thought become a reality. If The Ashley predicts correctly, both Kasey and Vienna will be appearing on the next season of Bachelor Pad, set to premiere this summer. (More on that later!)
A word to the wise, Kasey. Don't withhold the sex. Vienna needs lots of the sausage.