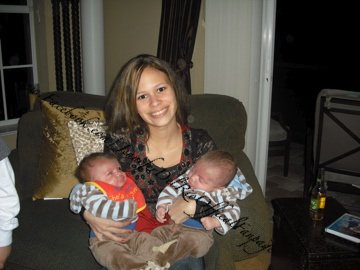 She's not even "famous" yet and she's already made it onto TMZ!
Jennifer Del Rio, a mother to be featured on the upcoming 16 & Pregnant Season 3, has had a lot thrown at her in the last two months: first, her baby-daddy was arrested for threatening her, and now she's found out that there's something wrong with one of her twin babies!
By now, I'm sure you've all seen the story on TMZ about Jen's boyfriend being arrested. If not, allow me to recap for you:
Last month Jennifer (who The Ashley introduced you to weeks ago as the mother of twin boys) filed for a restraining order against her ex-boyfriend and baby-daddy Josh Smith after he was allegedly "harassing and threatening her and saying he would have her raped."
Of course, this is all according to Jennifer, mind you. Who knows how much is actually true.
Anyway, according to the TMZ story, Jennifer's police report claimed that Josh had attempted to kidnap the children and that, due to his violence, she is "frightened for her life and children's life."
Josh was also arrested back in November for domestic violence against Jennifer. We'll get to see that on their 16 & Pregnant episode. That's the part we saw on the trailer where Jennifer screams, "Say goodbye to your kids, Josh. You'll never see them again."
Jennifer, who's currently in Los Angeles to tape the 16 & Pregnant Season 3 reunion special this weekend, took to her Facebook to clear up what's going on with Josh since then.
"So I've been updated on everything about Josh and I all over the internet. Just wanna clear things up… Josh and I have made mistakes. They are in the past now. Things have been worked out. Thank you."
According to Josh, he and Jennifer are currently working on their relationship at this point.
Adding to Jennifer's problems is the health of one of her twin boys. Her son, Noah, was recently in the hospital and has since been diagnosed with having two enlarged ventricles in his head, as well as a hole in his heart. Poor little thing. Jennifer stated that these health problems shouldn't cause Noah any issues, but he is currently being monitored and has to go back for more tests in three months.
The Ashley can't imagine having to go through all of this (while being a mom to twins!) at any age, but certainly not at age 17. It's just unimaginable. I have a feeling more info on this girl will be coming to The Roundup readers very soon….