Last night on American Idol was entitled "Now & Then" night. (I assure you it had nothing to do with the 1990s chick flick of the same name.) The Top 5 chose a modern song (the "now") and an old-school song (the "then"). In other words, they had to fill up the time so they let everybody sing two songs.
To save time, The Ashley will give you the very best and very worst of last night's episode:
James Durbin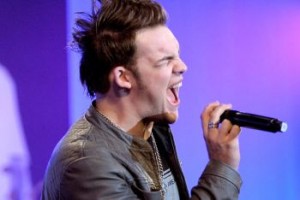 James chose to do some song by 30 Seconds to Mars that no one has ever heard of. (Or maybe other people know it but The Ashley isn't hip enough to? I don't know). Anyway, the judges loved it. The Ashley? Not so much. Did the judges not notice all of the pitchy notes and extremely flat beginning? The Ashley thought it was one of his worst performances to date.
He certainly redeemed himself with his second song, "Can't Live." The song triggered an emotional response from James in rehearsal, and during the song tears could be seen streaming down his face. I could almost hear the women of America going "awwwww!" The Ashley enjoys James so much more when he sings slower songs that really showcase his voice. He doesn't need all the theatrics because he's really, really good.
Next Week: Hitting the Stage (James should have no problems making it to the next round. The Ashley would be shocked (Pia-style) if he went home.)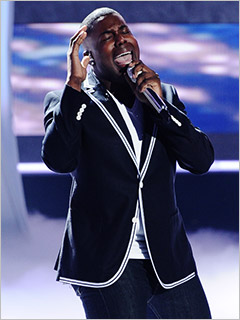 Jacob Lusk:
Jacob started the night with his modern song. He chose "No Air" by former 'Idol' winner Jordan Sparks and Chris "Beat-a-Woman" Brown. He was trying to bring a more current vibe to his performance, and even try to build street cred by mentioning he was "straight outta Compton." But, hy, why, why would he choose this song?  He sang the whole song in a very odd place in the vocal registry, and the fact that he was singing both the male and the female part was just…odd. J-Lo avoided telling Jacob that the song was bad, but luckily Randy broke the news to him. Thank you, Randy, for finally giving an honest, non-sugarcoated critique. It's pretty much the first time that's happened this season.
For Jacob's old-school song, he chose "Love Hurts," which The Ashley loved. He nailed a few crazy-high notes and certainly did the song justice. However, The Ashley doubts it will be enough to save him.
Next Week: Hitting the Road  (As much as The Ashley hates to admit it, she thinks that this will be the last week for our huggable Jacob Lusk.)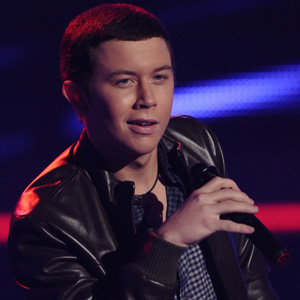 Scotty McCreery:
Scotty started things off with "Gone," a much faster country song than he usually sings. He was moving all over the place and even flirting with the blonde Barbie backup singers during the performance. It was nice that Scotty chose something a bit different, as all of his performances are starting to sound the same. Plus, he looked cute gyrating on stage.
For his second song, Scotty chose one of The Ashley's favorite Elvis Presley songs of all time, "Always on my Mind." Of course, his version was much more country than Elvis', so it was more like Willie Nelson's version. It was a controlled performance and would sound great on the radio; however, I felt like some of the other singers outshined him last night.
Next Week: Hitting the Stage  (Scotty has way too many little girls and grandmas voting for him to go home now!)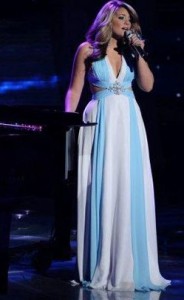 Lauren Alaina:
Well, it seems Lauren finally took The Ashley's advice and looked in the mirror last night before going out on stage. She was dressed better than she has been nearly all season, wearing clothes that flattered her body. She sang "Flat on the Floor" by Carrie Underwood. (It was inevitable that she would eventually sing a Carrie song, given all the comparisons.) She didn't hit all the notes, but sounded better than last week. More importantly, her hair looked amazingly better than it did last week.
Lauren's second song"Unchained Melody" for her older song, which was ironic because The Ashley was just thinking that she would sound great singing that. She was wearing a gorgeous blue and white dress, which I want, and sang the song with much grace and class.
Next Week: Hitting the Stage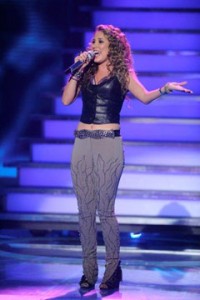 Haley Reinhart:
Haley took a risk by singing an unreleased Lady Gaga song for her modern pick. The whole panel decided that they didn't like it; however The Ashley thought it was a great way to show off her voice. If you don't know the song, you can't compare it to the original. 
She chose "House of the Rising Sun" for her old-school song and what a choice it was! Randy told her it was the best performance of the night (it was), and was just another example of the fact that Haley is always underrated. The performance was superb, sultry and sexy as hell. Steven Tyler probably wet himself again.
Next Week: Could go either way…she deserves to stay, but she seems to be America's scapegoat when they don't want to send a favorite home.