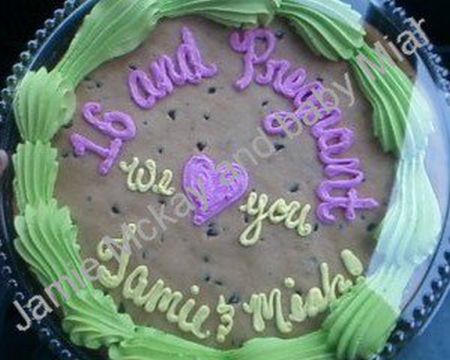 Wow…that's all I can say about this.
I'm sure the old lady working in the bakery section of the North Carolina Safeway never thought she'd see the day that she'd have to make a cake to congratulate a girl on her teen pregnancy! "In my day, they sent these girls away…." she probably told her husband that night when she got home.
Well, Granny, times have changed. This is the cake that the friends and family of Jaime, the girl who appeared on last night's episode of 16 & Pregnant, gave her to celebrate the premiere of her episode.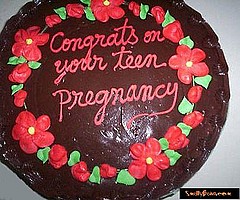 Of course, The Ashley knows that she's going to get lots of hate mail for this post, but um…do we really need to purchase baked goods to commemorate a 16-year-old getting pregnant and being on television because of it? This is not a bashing of teen moms, or even Jamie for that matter…it's just something to file under the category of "ironic." It just shows how much times have changed over the last 40 years or so.
Just for the record, I do not think teen moms should be sent away, so save yourself the time of writing a mean comment. That's not what I'm saying. Things are different now, and I think Jamie seems like a smart girl who will be totally fine in the end. I just think this is odd.
Since so many teenaged girls are getting pregnant these days, grocery stories and bakeries should jump on this if they want to make some extra revenue. The Ashle has some "16 & Pregnant Season 3″themed suggestions for them to add to their cake decorating offerings:
"Congrats on the Release of Your Baby-Daddy from Juvey"
"Happy 16th Birthday/Baby Shower"
"Happy Restraining Order Activation Day"
Just a suggestion. OK, let the hate mail begin.