This season, we've already met Jordan Ward and Jennifer Del Rio, who both had their share of drama going on. This week we will meet Jaime, who probably picked the worst guy of the bunch to have a child with.
Here's a brief summary of the situation we will see on tonight's episode: Jaime is from Asheville, North Carolina, and was dating a guy named Ryan, who seems to be a primo Class A douche. (We're talking Adam or Kieffer level here!) Jaime got pregnant and her baby Miah was born October 3, 2010. Jaime looks very different now that she did on the show, as she seemed to gain a lot of weight while pregnant.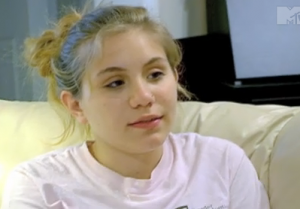 Anyway, don't be fooled by the clip of Ryan crying above: this baby-daddy seems like a real crap goblin. For example, his girlfriend was uber-pregnant and he went out and got super drunk and allegedly hooked up with some other girl that night! Meanwhile, Jaime went into labor and was at the hospital. He showed up hungover (with a hickey on his neck, according to Jaime) right before Jaime gave birth! Oh heeeelll no! They broke up after that.
Jaime and Ryan are not back together and they actually barely even talk these days. In fact, Jaime recently posted on her Facebook that Ryan is only allowed to have one supervised visitation  a week with his daughter because he is "hanging out with bad people and doing bad things." I can only imagine.
Apparently, Jaime has viewed her episode and is not happy with the outcome. She recently posted on her Facebook: "I hate my episode. It doesn't show how things really were. Ryan came to the hospital hungover and with a hickey on his neck. And wanted to take miah home with him when I didn't even know how to breast feed. But they don't show that."
Jaime's not the first "16 & Pregnant" girl to be less than satisfied with her episode. Several others have remarked that MTV conveniently edited their episodes to make things seem different than they actually were. For instance, the family of Isaac (Christinna's baby daddy from Season 2) was talking about suing due to the defamation they feel they suffered at the hands of MTV's editing. (Read about that here.) Season 1's Whitney Purvis has also made claims that MTV has a hand in "moving the story along."
Anyway, Jaime's episode airs tonight. We will then be able to decide if her baby-daddy deserves a spot in the Teen Dad Douchebag Hall of Fame or not.