Faithful Roundup readers already know that The Ashley has made it one of her missions in life to find out what happened to all of the couples featured on the short-lived but fabulous MTV show Engaged & Underage! She's already been able to find out what happened to Aussie & Jason, Michelle & Ben, Erica & Josh, Lauren & David, Cassie & Em, Ashley & Josh, Josh & Mandy, Bre & Josh and Krystle & Kiel. (To read the updates on these couples click here and here.)
Some of the Engaged & Underagers were kind enough to write The Ashley personally and update her on their statuses!
So far, it seems that roughly half of the couples are still together. The other half has long-since visited divorce court. The Ashley has updates on a few more of the couples!
Nikki & Josh
Nikki & Josh were the couple that was married live on MTV in New York's Time Square in  2008. Several other couples from the show, including Josh & Bre, attended the wedding. (So did Heidi Montag & Spencer Pratt, ugh.) The wedding special was hosted by America's Next Top Model alumni, Kim Holtz (um, random). I believe this was the last official episode of Engaged & Underage. You can read their local newspaper's write-up about them being on MTV here to get more back story on them.
Together or Not in 2012: Together! Josh was sent to Afghanistan in 2009, but returned by the time Nikki gave birth to the couple's daughter, Emelyn, in December 2010. After the show, Josh became a Calvary Scout in the Army National Guard and a jailer in Georgia.
That's not where their story ends; however. In November 2011, Josh was arrested on two counts of bringing drugs or contraband across jail guard lines and violating his oath of office, after he allegedly provided marijuana and other banned items to inmates! (Click here to see his mugshot and read about the case.)
However, it looks like Nikki has stuck by her husband's side. In April 2012, the couple were both listed in an obituary for Josh's father, telling us that they are still together.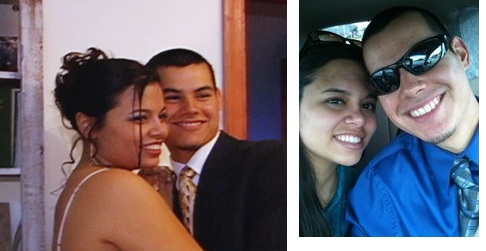 Maribel & Julio
Maribel & Julio were the ones that met in high school and when Maribel's parents moved the family to Florida, Maribel couldn't stand to be away from Julio and ran away to be with him, giving up on the chance to go to college. Obviously, her parents were upset and because of this, refused to come to the couple's wedding. In the end, Maribel's father comes to her wedding but her mother does not. You can read their whole episode summary here.
Together or Not in 2012:
Together! The couple is still happy and living in Florida. Maribel was kind enough to update The Ashley on how she and Julio are doing today.
"We are cruising & traveling the world like crazy," Maribel said. "We don't want children, so we are taking our time with everything & having fun!"
Angel and Christian already had a nearly one-year-old son, Tanner, by the time they filled their episode of 'E & U.' The couple had decided to get married, despite the fact that Christian's mother disliked his fiance, Angel, because Christian had to give up college and a golf career in order to provide for her and his son. It got so bad that Christian's mom wouldn't allow him to be at the hospital for the birth of his child! Anyway, you can read their whole episode summary here. They were married of May 2007.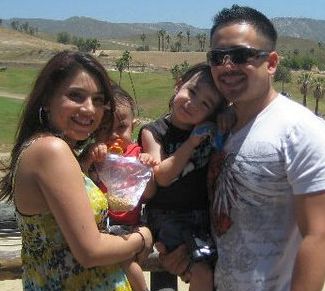 Together or Not in 2012: Together! After five years of marriage, Angel and Christian are still together. In fact, they had another baby, a boy named Tristian, in 2008. The couple is currently living in California. Their son, Tanner is now 6 and Tristian is 4.
Judging from their Facebook profiles, the couple seem very happy and very much in love!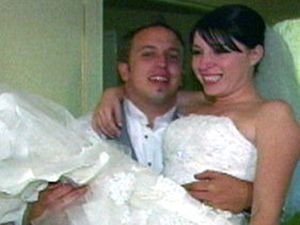 Chantel & Jacob:
This couple appeared on the first season of the show. His family was thrilled that they were getting married, but Chantel's family was less-than-excited. In fact, Chantel eventually left her mother's house and moved in with Jacob due to the tension that the wedding caused. She lets her future mother-in-law give her a bikini wax (on camera!) days before the wedding to prepare for the wedding night. (Um, awkward, anyone?)
Chantel later co-hosted the 'Engaged & Underage' live wedding special with Lauren Ranzino. You can read the full episode summary for Chantel and Jacob here.
Together or Not in 2012: The couple ended up getting divorced. A family member of Josh's emailed The Ashley to let her know what happened:
"Jacob and Chantel are not together anymore. She woke up one day and decided she didn't want to be married, was no longer in love, and basically split town. Jacob is doing really good. He has a great job, house, and family and is dating someone who seems to make him a lot happier."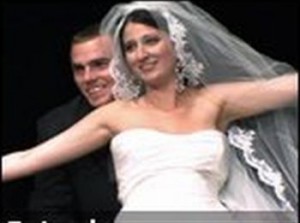 Cory & Jewel:
Cory gave up a promising BMX career to marry Jewel, who came off as very demanding. She turns into somewhat of a bridezilla, insisting that Cory build a bridge for her and her bridesmaids to walk over during their ceremony, and use the materials from his BMX ramp to do it. She constantly nagged the poor guy throughout the entire episode, but they still ended up getting hitched in the end. You can read the full summary of their episode here.
Together or Not in 2012: Together! I must say, this one surprised me; I didn't think they had a shot in hell of making it. The couple now own a photography business in Texas, and are the proud parents of two kids. You can an updated photo of Cory, Jewel and their son in the "bio" section of their company's website.
Jewel was kind enough to send The Ashley an update on herself and Corey in January 2013:
"This is Jewel from Jewel & Cory! Just googled my name and this came up, LOL. I just re-watched our episode…gah, I was terrible :/ We were young and I was demanding but I look even more demanding due to TV editing

Happy to say, Cory and I are happily married…going on 5 1/2 years. We have two wonderful sons who Cory is trying to get to love riding bikes–they have no interest :/ yet! I own a photography business and Cory is a K-9 Officer. He still has the ice cream business and it is doing good. We love to travel and enjoy going to Disney World with our boys! We made God the center of our relationship about a year into our marriage and it has changed our lives–for the better

I think it is so funny that people want to know "where we are now"….just wanted to give an update! liked reading your blog."
Click Below to See Updates on Other Couples From the Show: