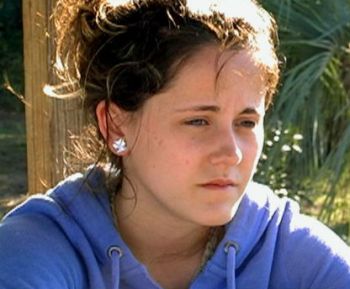 Teen Mom 2 star Jenelle Evans was photographed  picking up trash this week as part of her community service order. Those of you who are following the case may remember that Jenelle was sentenced to 24 hours of community service for pleading guilty to drug charges stemming from her and Kieffer's lil' trespassing arrest back in October.
The Daily Mirror published photos (click to see them, it's worth it!) of Jenelle picking up trash (or "rubbish" as the Brits called it.) I love how they said she looked "rather surly" in her bright orange, city-issued reflective vest. British reporters crack me up. I can't believe people halfway around the world in England care that Jenelle Evans is picking up trash in North Carolina!
After pleading guilty, Juuuh-nelle was also sentenced to supervised probation for a year and will be tested once a month for drugs and alcohol. She was also ordered to pay court costs.
Jenelle hit the courts again this week (I hope the Oak Island Courthouse has given her her own parking spot at this point) for assault charges stemming from her lil' catfight a month or so ago.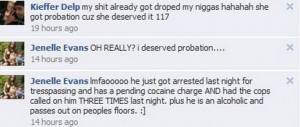 Speaking of courts and jail, guess who was arrested (again) this week for trespassing? Creepy Kieffer!! He and Jenelle are no longer together, as evident from these Facebook posts. I guess they hate each other now. I'm happy to hear she's ditched this crap goblin; however, I must admit that I will miss making fun of Kieffer. (He's since been bailed out, BTW.)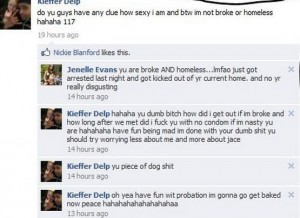 These two are too hard to keep up with. The Ashley doesn't even want to attempt it!
Anyway, The Ashley is hoping that Jenelle stays away from the Creepster, finishes her community service and stays out of trouble. Maybe there's hope for her yet!