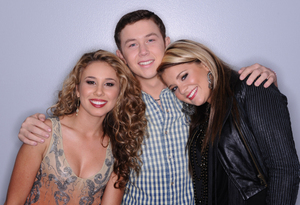 Before they were American Idols worthy of hometown parades (more on that later), Lauren Alaina, Scotty McCreery and Haley Reinhart were just kids trying to sing for anyone that would listen to them!
The Ashley found some great videos of the American Idol Top 3 from back before they were household names.
Here's 12-year-old Lauren Aliana Suddeth (that's her real last name, just FYI) performing a song that will be familiar to anyone who watched last week's episode: "Anyway." She looks pretty much the same (The Ashley wishes she had looked that good at 12! I looked like something out of a horror movie until at least age 15!)

I'm digging the glitter cutout stars in the background of this super-cool homemade music video, which is complete with scene breaks and fadeouts! Looks like someone got all creative on the Windows Movie Maker!
Lauren posted this video on YouTube a long time ago and, although most people gave positive reviews, there were some Negative Nancys commenting that her voice was out of tune, she looked too old, etc.
Lauren responded to her nay-sayers in the typical Lauren way: super sweet. She wrote:
"this is lauren.. i just want to say to the people who watch my video and dont know me as a person im really not what some of these people say i am. when i first saw [the comments] it upset me really bad, but i just had to come to realize that there will always be people out there who are going to talk bad about you. im just gonna pray for them and hope their hearts aren't really filled with hate for me. and if there is someone on here that i have ever offended im sorry for whatever i did"
Oh shucks, Lauren, who could hate you?! You're adorable.
Anyway, moving on, here's Scotty McCreery back when he was competing for the coveted title of "Clayton Idol!" (Clayton's a small town in North Carolina.) The guy MC'ing the event tells us everything we didn't want to know about Scotty: how he got lost in a store as a young kid, how his mom wouldn't let him have guitar lessons until he tried a year of piano, how he can "throw a mean slider" pitch, and how he sang at his grandparent's 50th anniversary party. (Awww!)
I love how everyone starts clapping as soon as he opens his mouth and that deep voice comes out. You can even hear one lady exclaim "Oh my gaaawd!" and "Listen to that voice!" He won the title of Clayton Idol, just so you know!
Finally, we have Haley Reinhart back in 2008 when she was just a girl singing in her bedroom. I love this video…she is singing along to "Just Like a Star" by Corinne Bailey Ray. She's only 18 here but she nailed this song (she should totally sing it on 'Idol.') She does need to clean her bedroom though!
Here's another pre-'Idol' Haley performance from around the same time. She's performing "Because" by the Beatles with some of her classmates. They all sound amazing, but you can hear Haley's signature sound even through all of their voices. (Love the girl on the far right who's standing there like Frankenstein!)