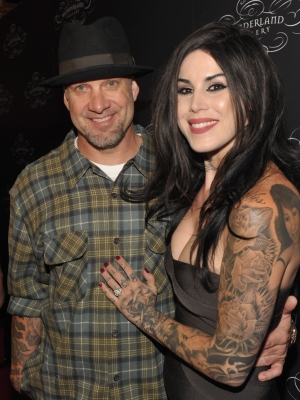 I guess this means they won't be getting matching tattooed wedding love bands?
LA Ink star Kat Von D announced on Twitter tonight that she is no longer engaged to West Coast Choppers star Jesse James.
Despite the fact that they just did this sappy interview with US Weekly, things went south really fast for the tattoo-loving couple. That's right kids; there will be no wedding. It seems like these days, news doesn't become real until it's announced in 143 characters on The Twitter.
Kat posted this a few hours ago:
"I am no longer w Jesse, and out of respect for him, his family and myself, thats all the info I'd like to share. Thanks for respecting that."
I'm sure that everyone will totally respect that and leave you alone. Because that always happens.
Anyone want to bet that Jesse surfaces in about a week or so with a porn star on his arm?