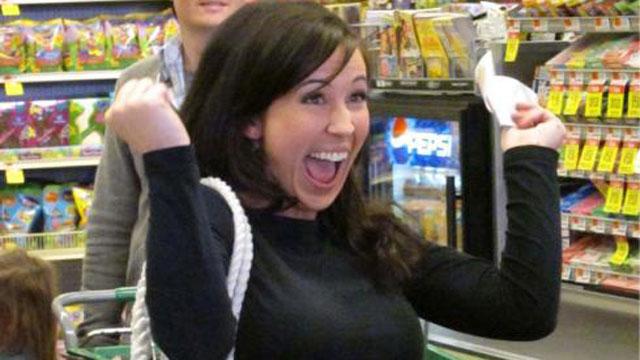 The sister of Bachelorette Ashley Herbert is certainly not living the rich and famous lifestyle. No, kids, it's not all private helicopter rides and fancy beach dinners for Ash's sister, Chrystie Hebert Corns (who we will see bitch out Ashley on tonight's 19-hour Finale Special). It turns out that Christie, like her sister, is also a reality TV star; however, she's living a much-more budget-conscious life.
If you're thinking that Chrystie's face (and wicked tattooed sleeves) look familiar (and not just from when Ash brought Brad Womack to Maine to meet the family), you're probably right. Ashley's sister, has been featured on the show Extreme Couponing. (Yes, the show those crazy ladies get $7,000 worth of groceries for two pennies!)
Chrystie's episode aired in May (not sure if she's continuously going to star on the show or if it was a one-time thing, but this article makes it sound like it's a reoccurring gig.)
"For Christmas last year, I made huge baskets of toiletries for gifts," Chrystie told the Bangor(hehehehe) Daily News about her couponing loot.
Obviously Ashley's gift basket probably included a stockpile of too-tight cheap dresses from Fashion 4 U.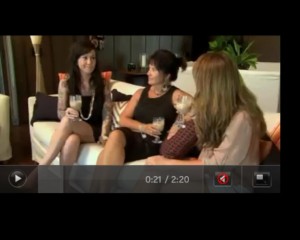 Anyway, Chrystie has made couponing her career (in addition to a social marketing company). She runs the website ilovetogossip.com (which is actually a great resource if you're interested in starting Extreme Couponing yourself. Why she named the site that, even though it has nothing to do with gossip is beyond me, though.)
In the previews for tonight's episode, Chrystie is shown getting all bitchy on Ashley, although we don't know why yet. It appears that Chrystie doesn't like JP, telling Ashley that she doesn't think he's the one for her.
"I don't see it. I think he's a great guy but…just the way that you are with him, I'm not seeing it. I think you're too much for him," Chrystie will tell Ashley on tonight's episode. "I think you're too young and I think you're too spunky and he's just kind of a little bit older and a little bit more demure."
Um…ouch? Basically her sister just told her that JP is way too old and mature for her. Perhaps Chrystie wanted a piece of JP for herself…hmmmm?
Chrystie is aware that her Bachelorette bitch session is going to drum up some negative attention, as she posted this on the Twitter recently:
"Remind me to turn off Google Alerts for my name after next week's Bachelorette episode…fear it's going to be Baaaaad!"
To see more super-rare photos of Ashley and her sis, click here.