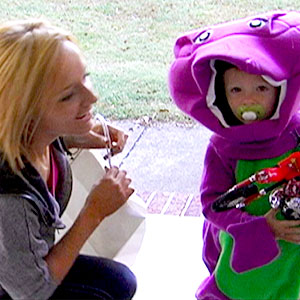 Grab your Dr. Drew masks, kiddies, because it's Halloween time on this week's Teen Mom episode!
OK, seriously, MTV? You filmed this in October and you're just showing it now? Does it bother anyone else that the stuff we are seeing on the show was filmed nearly a year ago, making it almost irrelevant to what's actually happening currently in these people's lives? It's not like the editors are reinventing the wheel here; they're stringing together various clips of Farrah yelling at her parents and Gary and Amber fighting. It shouldn't take this long!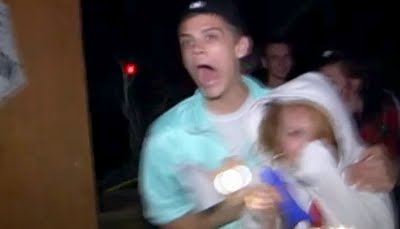 Anyway…Catelynn and Tyler are looking for some Halloween adventure so they head out to the haunted cornfield maze for a night of spooky fun. (Haunted cornfields, eh? Oh Midwest, I heart you.)
After the cornfield hi-jinks, Catelynn and Tyler head home and realize that they've got bills to pay. Catelynn says that despite the fact that they have Teen Mom Season 2 money in their savings, they really need to get some jobs. Tyler says he's actually excited to work (luckily, the apple seems to have fallen far from the tree with Tyler. He hasn't gone into the 'family business' of home invasion like his rat-tailed papa.)
The Ashley would just like to say that she thinks Catelynn and Tyler are the most adorable couple ever. She seriously wants to pinch their cheeks. They are so supportive and genuinely happy with each other. The Ashley wishes all of her readers could have relationships like this.
Meanwhile, Farrah is still gloating about the fact that she has squashed Derek's mother's chances of ever seeing Sophia when the phone rings. It's Farrah's long-lost sister, Ashley, (who The Ashley loves because she is the only one that calls out Farrah on her excessive bitchiness and downright rudeness. Plus, she has an awesome name, obviously.)
Ashley invites Farrah and Sophia to the local pumpkin patch so they can do some bonding. Apparently, their relationship has been strained (perhaps because of this little incident?) and Ashley is trying to repair the damage. The sisters, Sophia and a couple of random friends head down to the pumpkin patch, and, as usual, Farrah's being a jerk, only this time it's to a poor defenseless goat.
Sophia attempts to pet a goat when Farrah screeches, "Ew! Don't touch that one because it's weird and it doesn't even have any horns!" Yes, the goat was sans horns, but it's not like it had leprosy. (I'm not the only one that felt really bad for that poor little goat, right?) I was really hoping that the goat would take out its aggression by peeing on Farrah's shoes. No such luck.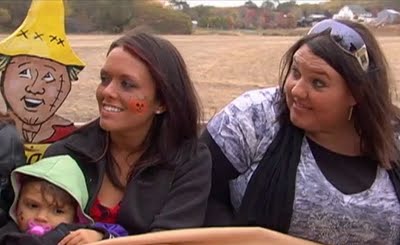 Anyway, they head out on a hayride and Farrah tells her sister and assorted friends that she is planning to move to San Jose to open and build her own restaurant (as you do at 19). One question Farrah: if you move away, how are you going to treat your parents like crap? Your miserable tarty comments won't translate as well over the phone.
Anyway, over in Indiana, Amber's looking for yet another "apartment," despite the fact that she already has two (the one that her friend Kim has turned into one big junk pile, and the "pressed wood" one she rented with Gary). Seriously, what 20-year-old with no job can afford three residences?!
Amber mentions that she's been forced to be a recluse due to her and Gary's fight being in "all the local papers" (not to mention Star, US Weekly, Perezhilton, the London Daily Mail, etc.)
This is, however the first time that a person on this show has ever mentioned the fact that being on 'Teen Mom' has changed their life, or even acknowledged the show's existence. It's as if Amber's broken through the "fourth wall" on a sitcom or something. She said she can't walk down the street without having people scream mean things at her and Leah. The Ashley actually feels really bad for Amber. She's kind of a prisoner in her own home. (All three of them!)
It's moving day for Maci and Kyle. They're unloading [brand-new] furniture to move into their "apartment." Bentley's birthday is right around the corner so when Ryan shows up to drop off Bentley, Maci tries to figure out what the plan is for his birthday party. Ryan's can't even pretend like he gives a rat's patootie about the whole thing and just yawns the whole time Maci's talking. (Anyone else get the impression that Ryan checked out of the whole 'Teen Mom' thing a long time ago?)
Meanwhile, Catelynn and Tyler are calling around, looking for jobs. Catelynn gets on the phone with a "jewelry boutique" (how does a business like that stay afloat during a recession?) to see if they are hiring. It's here that we get a clear show of Cate's French tip nails. Let's stop here for a moment: if they are really so destitute, how the hell does Catelynn have the money for expensive fake nails? Any girl can tell you that going to a nail salon and getting French tips with "design" or "flower" costs big bucks. By showing such a clear shot of the nails, it's almost like the editors were secretly trying to tell us that these kids are just pretending to be poor.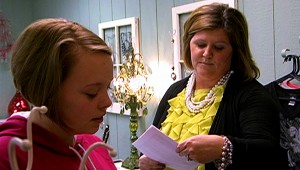 A few days later, they are out and about, applying for jobs. Catelynn heads to the "jewelry boutique" to turn in her application. Tyler heads to a pizza place, where he has an interview with the owner. This guy (who I've named Big Tony) is not playing; he asks Tyler some hard questions and makes sure he knows that this job involves lots of hard work and there won't be time to be fiddle-farting around.
Tyler informs him that he's totally ready for the job because "he loves pizza." Big Tony is encouraged by Ty's enthusiasm (and no doubtedly the extra exposure his pizza place will be getting for employing an MTV star) and hires him.
Over in Maci Land, Ryan's still in a 'mood' and meets up with Maci to pick up Bentley. He's spitting mad (literally, he's spitting on the ground) that Maci didn't allow him to hang out with Bentley the previous day (which was his actual birthday). To get back at her, he is refusing to let Maci have Bentley on Halloween (which falls on his Ryan's visitation day). They get into a heated argument and Ryan drives off in a huff, and Maci supposedly heads to class (however, that's not what happened in real life. Here's what actually happened!)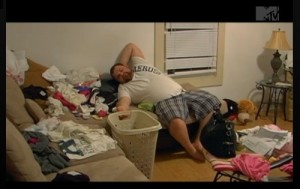 Amber is still looking for a house to live in, so she has a realtor pick her up and take her to a house. She's not happy with it because there's a dent above the stove and weird lighting or something.
Um…your other apartment is currently just a pile of trash with a crib thrown in the middle of it. Why the hell are you being so picky? The new house will be a dump within the month.
Amber's been away from Leah for a few days and is feeling bad. Her cousin Krystle comes over and, after hearing that Amber went out on the town with three guy friends the night before, tells her that she needs to "slow her roll" and concentrate on Leah. Well, apparently, Amber's not happy and says there will be no slowing of her roll and gets all pissy and yells at Cousin Krystle. (She does this while putting a plaid shirt over the plaid shirt she's already wearing, of course.) Amber says she can't drive, therefore she can't see Leah. (Apparently, there are no Yellow Cabs in Indiana?)
Meanwhile, Ryan is still spitting mad (again with the spitting! Why must he spit in between every other sentence!?) He tells his parents that Maci wants Bentley on Halloween and Ryan's mom immediately bursts into tears. She says he doesn't have any rights over Bentley. Ryan's dad encourages his son to grow a pair and take Maci to court for a better custody arrangement. Ryan seems ho-hum about the whole thing, so his dad informs his that his actions are "ripping his mother's guts out" and that this whole thing is killing her. But, you know, do whatever you want…no pressure.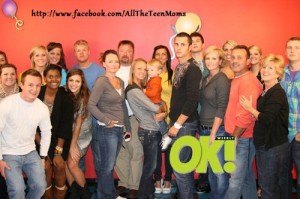 It's time for Bentley's birthday party and the whole Bookout/Edwards gang heads to the Pump it Up for some blow-up slide fun. Ryan and his entire family are standing there all Farrah-like, looking grumpy with their arms crossed, while Maci's family is having plenty of happy, Kodak moments. They all take a group photo and Ryan's side look like they're posing for mugshots.
Maci, once again, tries to get Ryan to let her take Bentley for Halloween, and after Ryan won't budge, she informs him that she's taking him anyway. Ryan's had enough and says he is going to take Maci to court. This all happens before they even wheel out the birthday cake.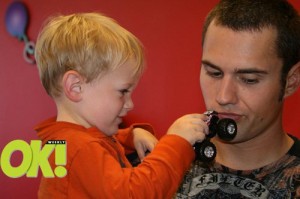 Later, we see Maci and Kyle taking Bentley trick-or-treating. How freaking cute was Bentley in his Barney costume? I want to make a T-shirt and capture that cuteness on cotton!
Anyway, Farrah's having a hard time doing her culinary school final. She's stayed up all night working on the business plan for her restaurant, F & S Restaurant. (I'm sure half of the night was spent coming up with that innovative restaurant name.) Debra reads over Farrah's work and basically tells her that the business plan looks like something Sophia could have come up with and tries to make a few small changes to ensure that Farrah at least passes the class and Deb's culinary school tuition doesn't go to waste.
The next day, Farrah informs Deb that she may have flunked her culinary school because Debra "made her change" her fantastical business plan. Farrah's also upset that her instructor told her that she was bitchy and rude. I do not know this man but if I ever meet him, I will give him a high-five and buy him an ice cream cone.
Farrah can't imagine why her instructor didn't like her horrific Asian-Italian fusion restaurant idea. I can't imagine why either: kung pao meatballs and teriyaki calzone sound just scrumptious.
Despite the fact that she's been a complete ass-icle to her parents this whole semester, they still take her out for a celebratory graduation dinner. She gets mad when her mom dares to ask Farrah about her school, even though that's kind of why they're giving her a free meal in the first place. She tells her mom she doesn't want to hear people talk. O-M-G. Michael looks like he wants to jump out the plate glass window and sister Ashley is sitting there smirking to her parents, almost like she's saying "I told you guys she was a rude turdsnapper."
Despite the Maci/Ryan drama, this episode was kind of boring. Next week, we will hopefully be over all of this "new house" stuff so we can move on to some more exciting drama!
(Photos: OK! Magazine, MTV)