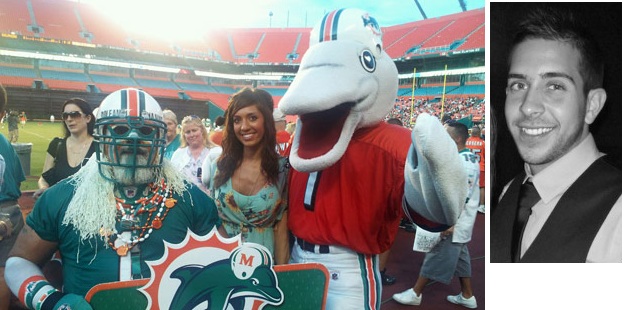 Though Teen Mom star Farrah Abraham is a transplant from Iowa, she recently showed her Florida pride by attending the kickoff game of the Miami Dolphins at SunLife Stadium.
Her guest for the game? Her new(ish) boyfriend, nightlife promoter Daniel Alvarez. Both Farrah and Daniel  (along with several of Daniel's friends) were on the field, meet-and-greeting with the Dolphins players.
So who is this guy? He runs My Bar Heaven, a website devoted to nightlife in his hometown of Austin, Texas, as well as other hot spots. He spends a lot of time in Florida, which is where Farrah is living these days.
Farrah and Daniel started dating back in June, after she was set up by an acquaitance. They went on their first date at the end of June, which included dinner at P.F. Chang's. (Wonder if she got the tofu lettuce wraps? Yum-yum!)
Anyway, Daniel very much resembles Farrah's late boyfriend (and Sophia's father) Derek, no? She certainly has a type.
"I introduced [Daniel and Sophia] right away," Farrah told Life & Style. "It's like a perfect little family. He's great with Sophia."
We may be seeing Daniel on 'Teen Mom' Season 4, since they have been seeing each other while Farrah taped the season. Hopefully she's nicer to him than she is to her mother, or he won't be around very long!