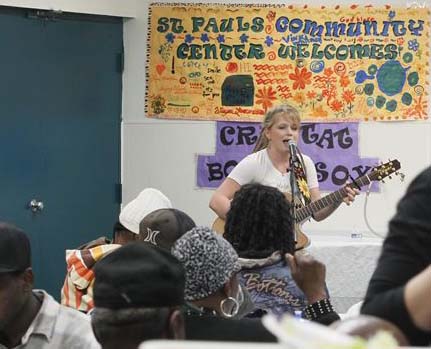 The Ashley has said it before and she'll say it again: Crystal Bowersox is amazing.
Since she finished as runner-up on last year's American Idol, Crystal has been doing awesome things: releasing an album, playing the Grand Ole Opry, performing across the country, etc.
This story really made The Ashley feel all warm and fuzzy when she read it. Apparently, while Crystal was in Toledo, Ohio, back in May she quietly made a stop at a homeless shelter and played an hour set for the folks that were there. She signed autographs and talked with the down-and-outters and even recorded several public service announcements for 1Matters and World Homeless Day.
Unlike most of today's famous singers, Crystal hasn't forgotten where she came from and hasn't forgotten what it means to be a good human being. In this day in age when pop stars and has-been celebrities are making outrageous demands and getting paid insane amounts of money just to exist, it's refreshing to read about a star who's concerned with something other than herself or fame.
According to this article, Crystal was once a regular at the shelter and often got meals there. She used to perform there while she was attending the Toledo School of the Arts.
"She told the people she dined with that if she ever made it, she would come back," the article said. She made good on her promise, and even helped to serve meals to the people at the shelter. (Here's some more info on her performance, etc.)
I love this girl. So many fame-hungry self-obsessed pop stars could learn a thing or two from Ms. Bowersox!
Buy her CD! It's fantastical!
(Photo: 1Matters.org)