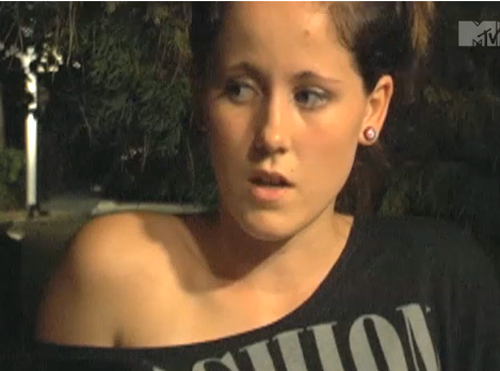 Ruh-oh…someone at MTV is not going to be very happy with a certain trouble-making Teen Mom.
Jenelle Evans accidentally let it slip on her Facebook earlier this week that there will actually be two more seasons of Teen Mom 2! Although we all know that the girls filmed the second season (they filmed the reunion special in July after all) there had been no mention that a third season had been ordered until Jenelle bragged about it on Monday during a Facebook fight with one of Creepy Kieffer's friends.

Jenelle was bickering back and forth with the guy whose phone number she gave out earlier this week on her Facebook, claiming it was Kieffer's when she accidentally mentioned the third season. (See the screen shot at left.)
This is good news for fans of the 'Teen Mom' shows. Not only do we have at least one more season of the original 'Teen Mom' to look forward to, but also two  more seasons of 'Teen Mom 2.'
Thanks for letting us know Jenelle!
Special thanks to Roundup friend Alyssa for tipping us off to this goodness!
(Photo: MTV)