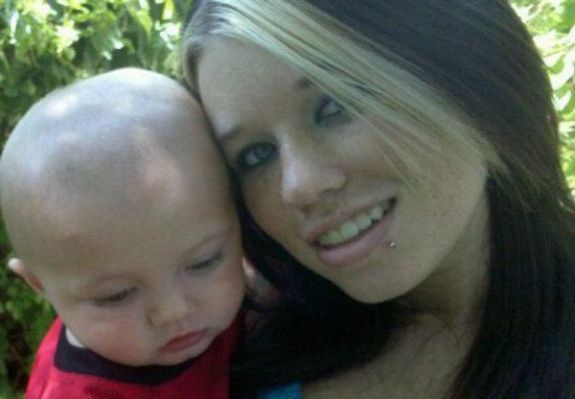 Earlier this year, 16 & Pregnant viewers were given a glimpse of what the girls from previous seasons were up to during the "Where Are They Now?" special. Fans saw that a number of the girls had gotten married since filming, including Megan McConnell from Season 2. She married her baby's father, Nathan Stone, in February of this year.
Yesterday the news broke that Megan and Nathan are getting a divorce. Fans of the show were certainly surprised to hear the news and have been speculating as to what could have happened.
Megan talked to The Ashley to set the record straight as to what caused the breakup, and what she plans to do now. Apparently, she was as surprised as everyone else to find out that her marriage was in trouble.
"I thought we were doing great, but I found out two weeks ago that he had been talking to other girls for over a month," said Megan. "I was completely oblivious to the fact that things were bad. I guess he's just a good liar."
According to Megan, she found out that he had been texting other girls.
"He was texting things like 'I don't care about Megan and I want to be with you,' or asking them to come visit and [saying] he wants to move in with them," she said.
After Megan discovered what was going on, she confronted Nathan. Last Monday, he moved out and is now living with his friend.
As to be expected, Megan's taking the breakup hard, and is trying to figure out her next move.
"I'm staying with my parents for now," she said. "I am going to talk to a college counselor so I can hopefully start [school] in January, if not sooner.
"I'm also looking for a job so I can make my own money and eventually move out," she said.
As for her son, Blake, Megan said she hopes to keep Nathan involved in his son's life.
"I want joint custody so Blake can still see his dad," she said. "He doesn't live in a house [where there is] any room for Blake so I don't know if it will be possible to get shared custody so he will probably just end up with visitation."
She also added that, despite what's been said about her dating other guys, she has no interest in trying to get into a new relationship at this point.
"I will not be dating for a long time," said Megan. "Now I have a hard time trusting people."